Skeptics often dismiss those concerned about growing levels of surveillance as paranoid conspiracy theorists. But Google's latest transparency report, released Tuesday, shows the fears are grounded in reality: Government surveillance is on the rise.
Every six months Google publishes transparency reports to disclose how many requests it has received from government agencies to hand over user data or take down content. Yesterday's figures reveal Google received 20,938 inquiries from government entities around the world for user data in the first half of this year—a 55 percent increase in requests received during the same period in 2010. The United States by far made the most requests for user data, submitting more than one-third of the 20,938 received. India was second, followed by Brazil.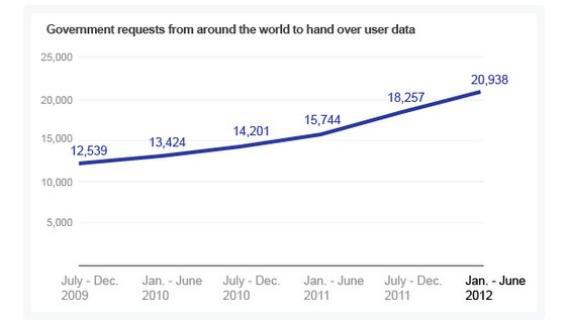 Google does not comply with all requests, though most of the countries that asked for user data received information at least some of the time. Turkey, Russia, and Hungary among a handful that were rebuffed on all counts.
In its last transparency report, published in June, Google noted an "alarming" increase in government requests to remove content from its sites. The new report shows this trend has continued, with an 88 percent increase on removal applications between the first part of 2011 and the same period this year. It isn't just authoritarian regimes requesting censorship: Google says between January and June, it turned down appeals from authorities in the United Kingdom, who wanted content criticizing police to be removed. It also denied a series of requests from the United States demanding the removal of content criticizing local and state government agencies, law enforcement, or public officials. Similarly, a police agency in Australia requesting the removal of a video making statements against members of law enforcement was declined.
The spike in surveillance and censorship reported by Google will probably not come as much of a surprise to regular readers of Future Tense. In the past few months alone, we have reported here on calls for an expansion of surveillance laws in the United States, Australia, the United Kingdom, and Canada. At the same time we have seen sophisticated spyware tools being used to target activists, academics and journalists in the Middle East; mounting criticism of how law U.S. enforcement agencies are using cell phone tracking techniques under a veil of intense secrecy; and some governments push for the power to hack and delete data from servers in foreign countries. Anxiety about surveillance and censorship has led to new encrypted communications platforms being launched, while officials in Europe are currently planning a groundbreaking new monitoring program to help chart digital repression by mapping the Internet's "cyber geography" in near real time.