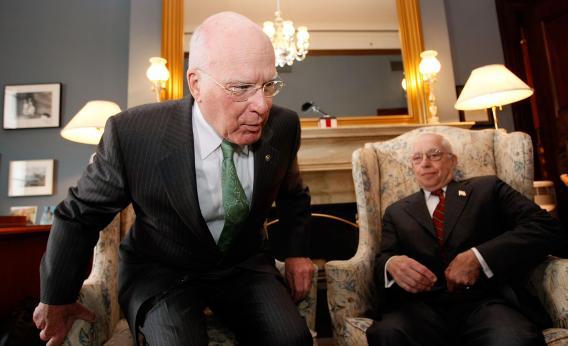 The fine folks in Washington have decided it might be about time to update the law that lets cops read your old emails, Facebook photos, and other stored electronic communications without a warrant. You know, the one that was passed 26 years ago, before most people even had email, let alone Facebook.
In a surprising bout of common sense, the Senate Judiciary Committee on Thursday morning voted in favor of an overhaul of the Electronic Communications Privacy Act of 1986, or ECPA. The changes, authored by committee chair Patrick Leahy, a Vermont Democrat, would require authorities to show probable cause that you've committed a crime before they can go snooping through all your online personal information. As it stands, any personal information you have in the cloud—like Gmail messages, Flickr photos, files saved on Dropbox—becomes fair game for law enforcement to acquire from your Internet service provider once it's been stored for six months or more. If the same information were on your hard drive or printed out, police would need a warrant to obtain it.
As Wired's Threat Level blog noted earlier this year, the law was written in an age when email was stored on servers only briefly on its way to your inbox. As a result, David Kravets explained, "E-mail more than six months old on a server was assumed abandoned, and that's why the law allowed the government to get it without a warrant. At the time there wasn't much of any e-mail for the government to target because a consumer's hard drive — not the cloud — was their inbox."

That hasn't stopped the Justice Department and law enforcement groups from defending the anachronistic law. Associate deputy attorney general James Baker has claimed that requiring a warrant for police to access your email could have an adverse impact on criminal investigations. But an in-depth AP report turns up a lot of legal experts who say that's hogwash. "Since you've already got to get warrants for the stuff that's less than 180 days, it's obviously not an insurmountable standard," said Joseph Cassilly, a former president of the National District Attorneys Association. Meanwhile, the outdated law has lent itself to a contradictory array of court interpretations.
There was some controversy leading up to today's hearing, as CNET's Declan McCullough last week reported that Sen. Leahy had rewritten the bill to preserve law enforcement agencies' warrantless snooping privileges after all. That sparked an uproar from privacy advocates. But Leahy's office insisted that the Senator never intended to bring forward the rewritten version that CNET published. Either way, the leak seems to have served its purpose, putting lawmakers on notice that privacy advocates would be closely watching today's hearing.
So would it be too much to expect that these long-overdue changes will finally be adopted by year's end? Apparently it would. Leahy indicated a full Senate floor vote is unlikely to happen until 2013. And Bob Goodlatte, the incoming Republican chair of the House Judiciary Committee, says he'd like to take his time with it in the next session of Congress.
---