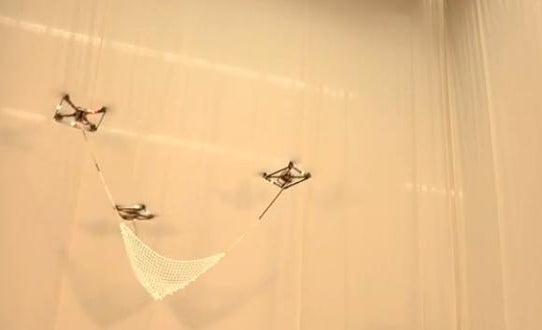 Every Friday, Future Tense rounds up the best robot videos of the week. Seen a great robot video? Tweet it to @FutureTenseNow, or email us. 
This week, robots roll toward danger, dance to Michael Jackson, and try out the ancient art of calligraphy.

The Sky Net Bots
Don't worry, it's not Skynet—just some quadrotors holding a net in the sky. These three drones communicate with one another while using the net to play a little game of catch, employing complex algorithms to track the trajectory of each throw. Researchers at ETH Zurich (the Swiss Federal Institute of Technology) have even trained the bots to learn from their mistakes, so they can readjust and try again when the ball doesn't land in the right spot. They may still be amateurs at this point, but that quick glimpse of quadrotor basketball holds promise for some epic new robot sports in the future.
Via PopSci.
The Firefighter Bot
When fires burn out of control, this little yellow tank could rush to the scene instead of those familiar red trucks. Howe and Howe Technologies built this firefighting robot, named Thermite, to step in when fires become too hot, too toxic, or too explosive for people to be around. The $98,000 gadget can pump out 600 gallons of water a minute, and the people controlling it from a safe distance can get an up-close view of the action. It may not have all the intelligence of the Navy's robo-firefighter, but I'd put money on the fact that it's more likely to keep the house from burning down.
Via IEEE Spectrum.
The King of Bot
Here's a robot for everyone who loved boom boxes but always thought they were a little too inanimate. mRobo, from Vietnamese robotics company Tosy, holds 2 gigabytes of digital music, can stream more tunes from a Bluetooth device, and rocks a sweet pair of shades. mRobo made its debut this week at the Combined Exhibition of Advanced Technologies trade show in Japan, and Tosy expects to start selling the dance machine later this fall. It'll set you back $199—and it's worth it if only for the existential conundrum it might present while playing the Killers' "Human."

Via DVICE.
The Calligraphy Bot
Robots are great for doing repetitive actions, but it's not often that a robot can actually repeat a person's actions. Created at Japan's Keio University and, like mRobo, displayed at CEATEC this week, the bot has two sets of arms so a human can teach it calligraphy. With the upper set of arms, a person can grab the brush and form different characters or imagesThe machine then memorizes the movements and mimics them with the lower arms to create a near identical image. Researchers think this could be a useful tool for educating children when a teacher isn't around.
Via IDG News Service.
---