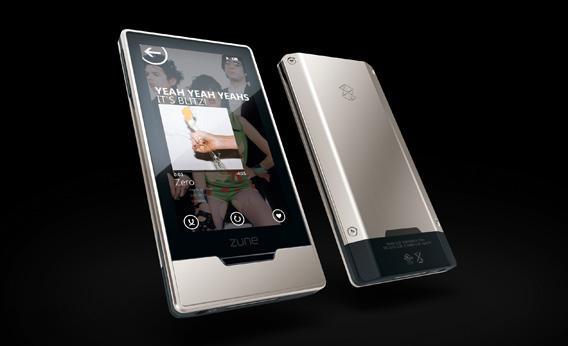 It wasn't very easy to get my hands on a Zune. After Microsoft's long-pitied music player won Slate's Reader Takeover poll—in which I'd promised to reassess an overlooked technology of yore—I had to scramble to get hold of a device I hadn't used since at least 2008. My local Craigslist listings overflowed with iPods of every variety, but there were only a couple Zunes for sale, and they were the earliest, least-memorable versions of the device. I was looking for a later-model Zune—specifically, the 2009-era touch-screen Zune HD. This was the best Zune Microsoft ever made, though you might consider that damning with faint praise.
And so my quest continued. When I asked my followers on Twitter if anyone could loan me a Zune HD, I was greeted with mockery. ("You can actually get Spin Doctors on iTunes now, you know," Tyler Gray noted.) The one guy who admitted to owning a Zune later emailed to say he was mistaken: "I just asked my wife and it turns out she got rid of it."
That's pretty much what happened to the Zune at Microsoft, too. The company launched the device with much fanfare in 2006. But the Zune never got past the single digits in market share. (The iPod, meanwhile, still accounts for three-quarters of music-player sales worldwide.) By the summer of 2009, just before Microsoft put out the Zune HD, the device accounted for just 2 percent of the music-player market. The HD garnered good reviews, but it was still a Zune, and it didn't sell. Microsoft released a slightly upgraded version in 2010, and in 2011, the company announced that it would stop making all Zunes. Zo long, dear friend—we hardly knew ze.
I finally tracked down a used Zune on Amazon, paying $145 for the 16GB Zune HD with one-day shipping—not a huge amount less than the $220 it sold for new. But it arrived quickly, and I've had enough time with the device to draw two conclusions about the Zune. First, it didn't fail because it was a terrible product. The HD, at least, is a perfectly fine device, in some ways a great one. If you purchased one over the iPod Touch back in 2009, you wouldn't have regretted it.
Second, the Zune wasn't as complete a failure as you may believe. The word Zune has become synonymous with corporate humiliation, and given how terribly it sold, that's probably justified. It's the tech industry's Edsel. But what many people don't know is that Zune sparked much-needed reforms at Microsoft. Along with the Xbox, the Zune project marked one of the company's first attempts to create innovative hardware and software, not just stuff that looked like it had been ripped off from Apple.
In that sense, the Zune's spirit lives on. This week, Microsoft is releasing Windows 8 and the Surface tablet, two technologies that it hopes will give it a foothold in the mobile market. These are huge initiatives for the firm. Apple's iPad is threatening to eclipse sales of Windows PCs, which account for the bulk of Microsoft's revenue, and these gadgets represent Microsoft's best shot at slowing Apple's rise. It's noteworthy, then, that some of Windows 8's key innovations were first developed for the Zune. Indeed, to the handful of people who used the Zune HD, Windows 8 and the Surface won't look all that different. And if Microsoft's Windows 8 strategy works, it will owe a debt to its maligned music player.
I knew that to be the case the moment I cracked open the box of my new (old) Zune: Like the Surface, the Zune HD is very handsome. I use that adjective deliberately. Whereas Apple's iPod Touch line has long had a curvy, cutesy appeal, the Zune HD's aesthetic is more masculine, with sharper angles, fewer curves, and a flat, utilitarian, brushed-metal back panel that's pinned on with four prominent screws. The design isn't necessarily better than the iPod's, but it isn't similar to the iPod's either. The Zune HD (unlike the first-generation Zune) is Microsoft's own take on a music player, a design that's both thoughtful and original.
The originality extends beyond the Zune HD's skin. Turn on the device and you're presented with a bright, beautiful, text-only home screen. This is boldly original: Whereas the iPhone and iPod Touch's main interface features a collection of illustrated icons, Zune's design guidelines sought to foreground typography. Microsoft licensed a brilliant, minimalist font called Segoe for the Zune, and the device renders its main functions in large, lowercase type. Tap on each menu item—music, videos, etc.—and you dive into the function with a quick, animated zoom. A text-only menu system sounds like it might be boring, but the typography is so pretty, and the software lets you navigate so quickly, that I found it every bit as functional as the iPod Touch's interface.
Microsoft clearly loved it, too. When the company's designers began to work on Windows Phone, the mobile operating system that it released in 2010, they made the Zune HD's text navigation system the centerpiece of the OS. (They also added large, colorful "live tiles" to the phone's home screen. They're like the iPhone's icons, but they can display a feed of constantly updated, useful information in the main menu.) Indeed, the Zune's interface forms the backbone of what's now called the "Windows 8 user interface"—the design aesthetic that Microsoft uses in Windows 8, Windows Phone, the Xbox, and all of its Web services. The company uses the Segoe font in all these products, as well as in its new corporate logo.
At this point you might be questioning my revisionist take. If the Zune HD was so good—if it looked and worked just as well as an iPod, and if Microsoft itself loved the device so much that it baked its software into its most important products—why did it fail?
As I used the Zune, the answer quickly became obvious. Microsoft's player is just as good as an iPod—it performed all of that device's main functions pretty well. But there's no way in which it's better than an iPod. And that's why it was doomed.
The first Zune was released in 2006, five years after the iPod's release. The Zune HD came out in 2009, two years after the iPod Touch went on sale. By that point, iPod had become the world's de facto digital entertainment device. To beat it, Microsoft needed to offer something that would make Apple's device look pitifully old-fashioned. The Zune HD didn't do that. Its design marked it as being different from an iPod, but that was pretty much the only difference. There was no reason to buy the Zune unless you wanted to stand apart from the Apple cult. And there was a cost to standing apart from Apple: Because of its popularity, there were millions of apps and accessories for the iPod. As good as it was, the Zune HD couldn't match Apple's sheer market power.
Now that I've gone back to use the Zune, though, I've grown fond of it. Its only sin was that it came a few years late. If Microsoft was a little faster, the Zune could have been a contender. So I, for one, will stop making fun of it. And when my iPhone's battery dies, I'll reach for my new Zune. It plays music just as well as anything that Apple ever built.