Former Alaska Senator Ted Stevens called the Internet "a series of tubes." Sociologically, it's something more than that, but on a physical level, he's basically right. Easy as it is to forget, the information that appears on our screen generally travels first through a vast network of fiber-optic cables.
But where exactly does it go on its journey? A new set of images published in this week's issue of Fortune provides some of the clearest and prettiest pictures yet. They're based on maps from GeoTel Communications, a company that specializes in "telecommunications geography." GeoTel's CEO, Dave Drazen, tells me the information is derived from major U.S. based carriers and publically available sources. He notes that the maps aren't comprehensive—they don't include military or government installations, for instance. Still: wow.

The maps—one of the world as viewed from the North Pole, and one of New York City—go along with an article by Andrew Blum in Fortune's print edition this week. They were visually enhanced by Fortune graphic designer Nicolas Rapp, who also posted them on his blog. They're reprinted here with GeoTel's permission.

New York City's fiber-optic cable routes are concentrated around the financial district. One major hub is the telecommunications building at 60 Hudson Street, in TriBeCa: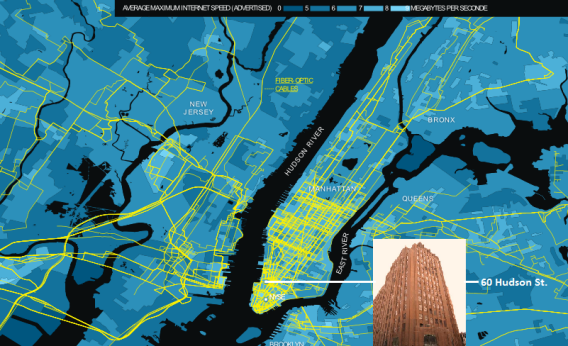 The world's fiber-optic network as viewed from the North Pole (full-size image):