Since the dawn of the online era, we have found ways to socialize in virtual space. BBS. IRC. The briefly ascendant Chatroulette. Message boards devoted to chatter about Boston sports franchises and/or the music of Stephen Malkmus (I'm just generalizing here).
The latest buzz phrase in the world of online kibbitzing is "social discovery." A classic social networking site like Facebook, the argument goes, is best suited for interacting with folks you've already met in real life. Social discovery sites are designed to help you find and meet new people.

Badoo is perhaps the most successful social discovery site on earth. Until the massive ad campaign it launched this spring in New York City—plastering subway cars with photos of young, attractive New Yorkers, all putatively clamoring to chat with you online—I had never heard of it. When I polled friends to see if they were familiar with Badoo, most confused it with Baidu, the Google of China. But it turns out that Badoo has registered 150 million users worldwide, is available in 40 languages, and clocks more than 7 billion page views each month.
Intrigued by this little-known social behemoth, I registered a profile and began to wander through the site. My first sensations: Chaos. Confusion. A powerful impulse to flee and hide. The Badoo layout is a riot of colors and clickable buttons. A miasma of thumbnail photos showing men in sideways baseball hats and women in clingy halter tops.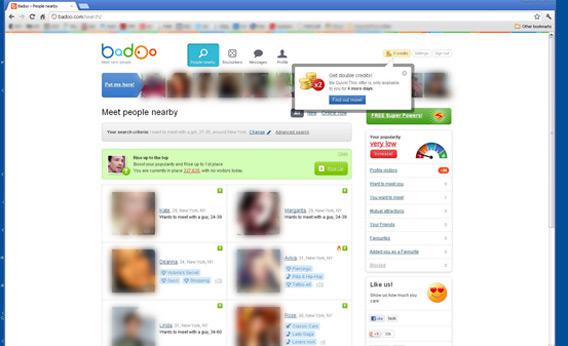 Within moments of posting a single, boring photo of myself, and listing my interests as racket sports and sushi, strangers began to initiate chats with me. Stacy, of Beaver Dam, Wis., wrote, "Hi." So I clicked on her face. She listed among her interests short-shorts, Skittles, Swarovski, and chicken. I wasn't quite sure what we were supposed to talk about. Imagine an unknown woman from Wisconsin—perhaps wearing crystal-encrusted short-shorts, munching on Skittles, etc.—rushing up to you on the sidewalk and expectantly waving. How best to respond?
You might well interpret the act as flirtation. And, after further exploration of Badoo, I concluded that flirtation is the site's real purpose. Most profiles I clicked on declared romantic intentions: "Wants to go on a date with a guy, 22-37" or some such. This is a hookup site, I realized. My suspicion was bolstered by the fact that, like Grindr (the app for gay dudes in search of instant love), Badoo tells you people's proximity—presumably so you can find someone within .3 miles who lists as an interest making out with people I've just met.
In fact, it's tempting to declare Badoo a Grindr for straight people—and some have. But not so fast, says Jessica Powell, Badoo's chief marketing officer. On the phone from London, Badoo's global headquarters, Powell assured me that Badoo is just a forum for making new friends and chatting, and that dating is merely a secondary result of that process. She likens it to being at a bar in a South American city, where people are apt to casually approach one another other and say hi with no immediate ulterior motive. (When I was at Burning Man last year, a Brazilian fellow told me he loves the festival because he gets to see "Americans acting like Brazilians—anyone can just walk up and say hello to anyone else.") Powell theorizes that this culturally specific preference for no-pressure chatting is why Badoo has spread quickly in South America and Spain and has made some of its strongest strides in the United States with our Spanish-speaking population.
But will this free-for-all format catch on with a broader American audience? Logging on to Badoo left me puzzled—I wasn't sure where to begin. This isn't a themed message board site where people with niche interests can gather to chat about crossword construction, say, or how to achieve perfect forearm pronation when swinging a squash racket (again, just generalizing). There's no particular reason or basis for most interactions, beyond an intriguing thumbnail shot.
And unlike dating sites, Badoo has no algorithm. No computer program whirs on your behalf, in search of your ideal match. You're just thrown into the scrum, much as you would be at a club or a big party. Though, to be fair, the act of rejection is more distanced online: Women can shut down to an unwanted Badoo advance by simply clicking away from a chat invite, while at a bar they cannot physically evaporate at will, try as they might.
Interestingly, Badoo doesn't sell display ads. Which is sort of amazing, given the volume of traffic it boasts. Instead, Badoo makes its money—it is projecting $150 million in annual revenue over the next year—through micropayments. Users can pay $1.99 to boost their visibility on the site, briefly promoting their thumbnail picture to the top of the welcome page, or elevating their ranking in search results. The strategy makes sense for Badoo, whose users often log in from their phones: Display ads don't generate as much revenue on mobile platforms, in part because the phone's screen size is so limited. Facebook has been bumping up against this very problem. Micropayments are one solution.
My own Badoo profile was in need of some goosing, so I bought one of these $1.99 power-ups. Suddenly, my photo appeared at the top of the site. About 40 new visitors clicked on my smiling mug in a matter of seconds. But the horde that descended on my previously sleepy profile seemed completely random. To test out Badoo's flirtation-enabling powers, I had specified that I was looking to meet women from New York City. But my wave of new visitors included lots of dudes, as well as women hailing from places like Passaic, Putnam Valley, and Berlin. No one within 350 feet of my apartment, Grindr style. And frankly no one I was all that jazzed to even have a conversation with. One guy named Stephen sent me repeated chat messages: "hi. u don'tlook 38. hii. u need to say hi to me what's the fuck. what do u think i'm stupid. no hell i'm not please say hi."
I didn't say hi.

There's been some skeptical writing about Badoo—including accusations that many profiles are fakes. Fair or not, any business that springs from the id of a "secretive Russian serial entrepreneur" is likely to be trailed by a vaguely sketchy odor. One of my visitors used a profile picture that appeared to be a stock photo of a model. She initiated a chat with me, during which her listed age suddenly changed from 24 to 26. I called her on it. "My age is completely ill-fitting," she wrote, mysteriously. Not long after, she disappeared.
When it comes to social discovery, we find our own tribe. I've been known to paddle around in OKCupid's waters—it's a dating site where women of a sort I'm drawn to tend to mingle. Many of the profiles feature witty, in-depth, highly literate self-descriptions. (When I asked Powell how Badoo compared to my dating site of choice, she said that OKCupid is "more upmarket, a little more white, more indie rock" while Badoo is "more mass market, more mainstream.") It's free to join OKCupid, which I liked, as it seems to imply a notch less desperation. Paying money to meet people suggests the matter is of some urgency.
But others might feel differently. The fee to join eHarmony could be viewed as a plus—keeping out the half-assed riffraff, and imbuing the quest for a mate with a workmanlike seriousness. Likewise, Badoo's micropayments system and chaotic chat environment might attract and favor those of us blessed with abundant hustle and chutzpah.
I hope Badoo's lovelorn find what they're looking for. But they won't find me. I'm deleting my profile.