Read more from Slate's special issue on science education.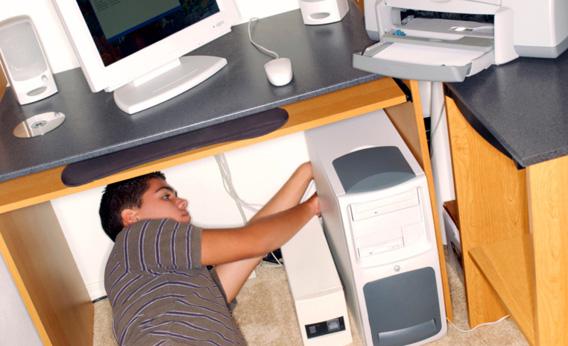 On June 1, we asked Slate readers for ideas on how to improve science education in America. Since then, you've responded with more than 100 proposals that address funding, teaching strategies, closing the gender gap—even flatulence.
Here are our 10 favorite reader submissions.
It's Not the Students. It's the Jobs.
User "BioNerd" suggests the problem isn't that we need more Ph.D.s—it's that we have a shortage of good science jobs. (Derek Lowe made the same case in an article for Slate.) BioNerd 's remedy: Create more careers with long-term stability through new policies, such as ending short-term adjunct professorships.
We have public art—why not create more public science projects? User Kim Kowal Arcand praises endeavors like From Earth to the Universe that take science from the lab to world at large. "We can't rely on non-science-attentive people to shell out money to go to science museums and pick up science magazines or books," the proposal notes, so bring the "wow" science to the "non-experts."
Those who might want to enter science later in life are often deterred by the prospect of returning to undergraduate education. That's why Brad Bedingfield wants a "law school equivalent" for science—a three-year master's program that could allow those without science, technology, engineering, or math (STEM) backgrounds make the transition.
Better Student Loan Interest Rates for Science Majors
Incentivize science education by targeting students where it counts: their wallets. This proposal advocates lower interest rates on student loans for science majors, offsetting this cost by raising student rates in other disciplines.
Expand Program To Bring Girls Into Science
Because the gender gap in STEM industries is related to complex social influences that begin at an early age, user "phoebe" advocates expanding the National Science Foundation's ADVANCE Program. Among other things, ADVANCE supports programs in colleges to encourage women to enter science majors.
Lighting the Bunsen Burner
Foster creative thinking, and a general interest in engineering and technology, with a three-week workshop. Participants would play with "littleBits," an open-source kit consisting of pre-engineered electronic modules assembled easy easily by magnets. Designed by engineer and TED Fellow Ayah Bdeir, these educational toys allow someone with minimal engineering know-how to design complex circuits and prototypes of lights and sound.
Make Scientists and Engineers Part of Pop Culture
For better or for worse, we are influenced by entertainment, especially at a young age. Doctors and lawyers already have legions of fictional ambassadors, with shows like House, Grey's Anatomy, and Law and Order: SVU dominating the airwaves. Why not a hard-hitting weekly drama for scientists and engineers?  
Encourage Interdisciplinary Study
Hard science and liberal arts don't necessarily need to be mutually exclusive. Reader Jillian Foley advocates for more interdisciplinary opportunities for university freshmen, with easier access to specialized courses and less strict requirements in declaring majors. This would allow students to develop their creativity while getting a strong background in science and math.
Readers loved this one, which describes an already-existent YouTube channel called Science of SIN that tries to get youth interested in science by pairing it with the edge of the taboo. It mixes sex, humor, and flatulence with lessons in biology, chemistry, and physical science.
User DanYHKim proposes a hands-on approach to learning engineering concepts by creating a class in which young students dissect, analyze, and repair broken technology, like obsolete computers and old DVD players.
Here are Slate readers' top five picks, according to the votes.
This YouTube science channel easily took home the most votes, receiving double the votes of the runner-up proposal.
2. It's Not the Students. It's the Jobs.
3. Follow the … Work/Life Balance!?!
User "Max_Power" calls for better treatment of engineers, using his own past experience as example. He points out that the problem lies not with recruiting creative individuals to the field, but retaining them. Incompetent upper management decisions, unreasonable workloads, and a general lack of respect for engineers were among his reasons for fleeing the field.
4. From Cookbook to Empowerment
Science becomes a chore for young students if it is simply a hunt for the correct answer and "tedious, cookbook-style work." The recent high-school graduate who submitted this proposal believes in exposing young minds to actual scientific research and fieldwork, rather than boring classroom sessions. For instance: A bee study conducted by 8-year-olds was published in 2010 by the Royal Society journal.
Also in Slate's special issue on science education: Fred Kaplan explains why another "Sputnik moment" would be impossible; Deborah Blum argues that we should split K-12 science education into two tracks; Philip Plait explains why he became the "Bad Astronomer"; Paul Plotz describes how almost blowing up his parents' basement made him a scientist; Tom Kalil says that the Obama administration is using the Make movement to encourage science education; Daniel Sarewitz debunks our ideas about "scientific literacy"; and Dana Goldstein explains why you should make your daughter play video games. Also, share your ideas for fixing science education in the Hive. This article arises from Future Tense, a joint partnership of Slate, the New America Foundation, and Arizona State University.