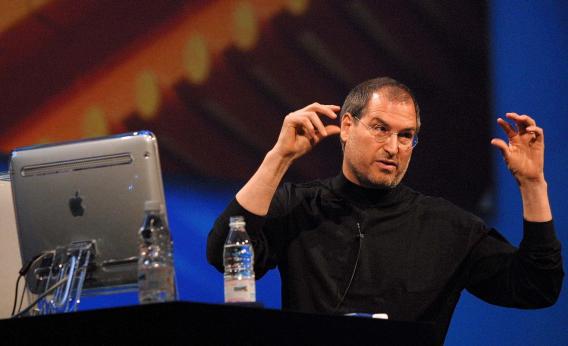 Paul McNamara from Network World's Buzz blog has unearthed a long-buried gem. On the heels of the blockbuster "1984" commercial for Macintosh, Apple created a rather bananas in-house short film called "1944." The plot: scrappy Macintosh is trying to take down the "big blue monoblob"—IBM, whose dull products turn office workers into zombiefied prisoners of wars. Steve Jobs makes a brief appearance as FDR, and while he certainly committed to the accent, he did not quite succeed.
The video, which is nearly 9 minutes long, was intended to fire up the company's sales force and was screened at a meeting in Hawaii in 1984.

As Gizmodo's Sam Biddle points out, the entire venture is baffling (though no doubt the sales team got a kick out of the jokes about co-founder Steve Wozniak's weight and last name). But even in absurdity, there are germs of technological prescience: A private in the Apple army briefly composes a note home to Ma on his Mac—much like members of the armed forces do today.
Head over to Network World to watch the full video as well as a 25-second clip isolating Jobs' cameo.

---