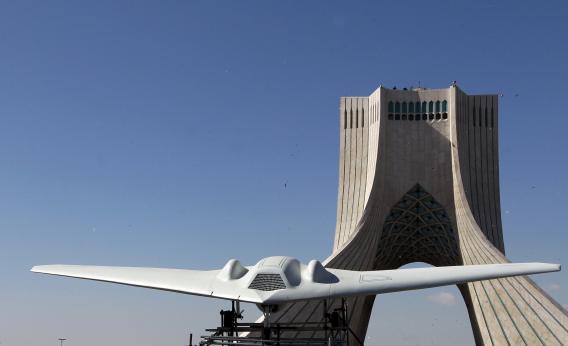 Will rapidly improving drone technology and bad regulation lead to near constant aerial surveillance in the United States?
On the ACLU's new blog Free Future, which looks at liberty and technology, Jay Stanley lays out a "nightmare scenario": 13 incremental steps create "an oppressive atmosphere where people learn to think twice about everything they do, knowing that it will be recorded, charted, scrutinized by increasingly intelligent computers, and possibly used to target them."
Stanley points to changes in technology, like better facial recognition software and capabilities that allow drones to work together and stay aloft for extended periods of time, as well as regulatory decisions, like the FAA "permitting even autonomous flight." In a subsequent post, he added quiet drones to the list of developments that could allow for pervasive, nearly unnoticeable surveillance from the sky.
"Perhaps it is far-fetched (I hope so)," he writes. Accordingly, he invites readers to criticize the 13 steps he has laid out. Reason's Lucy Steigerwald, for one, can't find fault: She says Stanley creates "a disturbingly credible (or, at least worth considering) vision of this technology which will not be crammed back into the box."
The best way for Stanley's nightmare to come true is for the public to remain disengaged from the discussion. But civil rights advocates might have access to a strange, stealth weapon. This week, the advertising campaign for the video game Call of Duty: Black Ops II kicked into high gear. The game, scheduled to be released in November, looks at the near-future military and the technology on the horizon. "The premise of the game is rooted in what's going on today," Jason Norcross of 72andSunny, the promotional company behind the recent publicity blitz, told Co.Create.

Accordingly, in a documentary-style spot, the infamous Oliver North and "future war expert" P.W. Singer discuss the next generation of battlefield technology. In a jarring coincidence, North says, "I have a nightmare scenario that a hacker breaks into our system that controls satellites, UAVs [unmanned aerial vehicles], even the launch of missiles."
North is talking about drones on the battlefield, Stanley about drones on the homefront. But Call of Duty: Black Ops II may lead to wider discussions about the ethics of military technology—and that interest could carry over to domestic arenas, too.
---