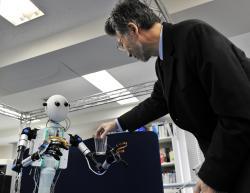 IEEE Spectrum has released its list of the top robot trends of 2012 so far.  The staffers and the robotics experts consulted tried to keep the list 2012 specific: "In making our selection, we tried to avoid the 'perennial trends'—areas like environmental robotics, entertainment and toy robots, and others that are always thriving with activity. We focused on emerging areas and we 'followed the money,' looking at where funding is going," they write in the introduction.
So what's new and exciting in the world of robots? "Co-robots"—that is, robots that work and live (as much as a robot can be said to "live") alongside humans—take the top spot. IEEE Spectrum points to a $70 million Robotics Initiative Project into this space as proof that the territory here is shifting. They predict that we'll see a lot more work in human-robot interaction in the coming months. Relatedly, robots with a "soft touch" and those that are "inherently squishy" also make the list, coming in at No. 4.
Check out the 12-item list on IEEE Spectrum. And if you like robots, don't forget to check back every Friday for Future Tense's weekly roundup of the best robot videos.

---