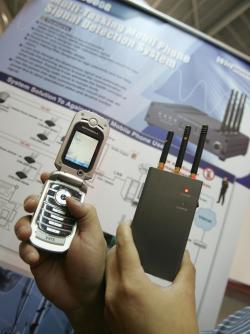 Last week, the Internet lit up with the story of a Philadelphia man who used a cell phone jammer to bring a little quiet to the city's buses. The vigilante told Philadelphia's NBC 10, "A lot of people are extremely loud, no sense of just privacy or anything. When it becomes a bother, that's when I screw on the antenna and flip the switch."
He's not the only person to try to institute quiet on his commute. Forbes.com's Megan Casserly spoke with phone jammers from the D.C. and New York areas as well. An NJ Transit commuter told Casserly that he "doesn't keep it on for the entire ride, he says, just when a fellow passenger talks 'too loud' or 'too long.' " While many commuters might be grateful to the jammers, the devices are illegal in the United States, though fairly easy to obtain online.

Meanwhile, the FCC is taking a look phone jamming from a different angle. A public notice asks for comments on whether government should ever be empowered to shut down wireless communications systems. The inquiry was prompted by the San Francisco's BART police department controversial move to block cell phone access during protests over the summer.
But as the New York Times points out, the FCC isn't sure "whether it even has authority over the issue. The public notice asks for comment on whether the F.C.C. itself has legal authority over shutdowns of wireless service and whether it can pre-empt local, state or federal laws that prohibit or constrain the ability of anyone to interrupt service."
And new technology may make the issue more complicated for both the government and consumers. Scientists from Japan are working on a speech jammer, which would prevent someone from being able to speak at all. A video extolling the technology promises that it will help students study and keep workplace chatter from distracting others. Will a member of Congress sneak a speech jammer into the State of the Union someday? What would speech jammers to do parent-child relationships? If everyone has a speech (or cell phone) jammer on them at all times, perhaps we'll see something like a nuclear arms stalemate, in which deploying the technology even once could lead to mutally ensured silence.
---