The Syrian uprising should be the kind of story that takes social media by storm. It has extraordinary acts of resistance, ordinary citizens fighting for freedom, and the Internet's power to break through a government's wall of silence. On Thursday, a U.N. panel declared that the Syrian government has engaged in "gross human rights violations."

So why hasn't Syria gone viral?
For nearly a year, the Bashar Assad regime has been violently cracking down on its opponents. The fallout has been tweeted, Skyped, photographed, and filmed. But it has not captured the collective social media imagination in the same way as uprisings past. When Egyptians and Tunisians took to the streets in 2011, faraway observers took to Twitter and Facebook, shouting and pumping their fists in virtual solidarity. During the 2009 protests that rocked Iran, Westerners turned their avatars green to show their support for the revolutionaries. Some changed their Twitter location to "Tehran" to confuse local authorities.
People are, of course, tweeting about Syria, but interest seems to be more concentrated among activists or Middle East specialists. The wider social media audience hasn't engaged in the way it did with Iran and Egypt. As we can see from these estimates below, the volume of Syria-related tweets (as a percentage of overall tweets) appears considerably lower than the volume related to the uprisings in Egypt and Iran. The estimates were constructed using multiple published Web sources reporting on number of tweets for the observed events as well as total Twitter traffic over time, including Twitter's blog, Customer Insight Group, Mashable, the Sysomos blog, and a dataset acquired via Twapperkeeper. The estimates are not precise but should be roughly representative of the average Twitter traffic at the observed time period.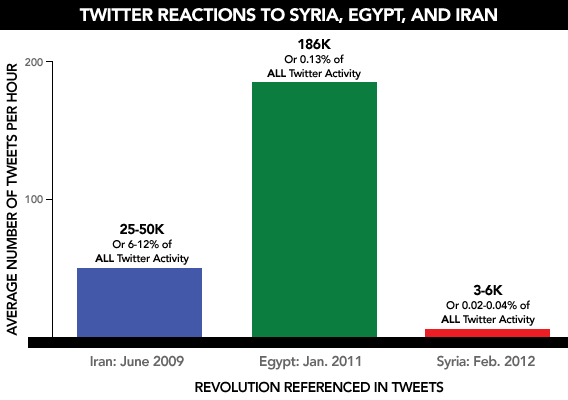 So why does the Twittersphere seem to be paying less attention to Syria than it did to Egypt or Iran? Here are a few possible explanations.

Novelty: Syria is the latest in a string of tweeted uprisings. The Iranian protests in 2009 marked the first time that social media let us witness this kind of protest in a closed society from the citizens' point of view. The world watched, transfixed, as the death of protester Neda Agha-Soltan was caught on video. Now, these kinds of horrifying images have become alarmingly common. The Syrian revolution is being livestreamed, a steady parade of graphic content for anyone to see. The question is, do people still want to watch when they can instead discuss Adele or the Super Bowl?
This graph is generated by SocialFlow, showing the number of times each keyword appeared during the observed time period: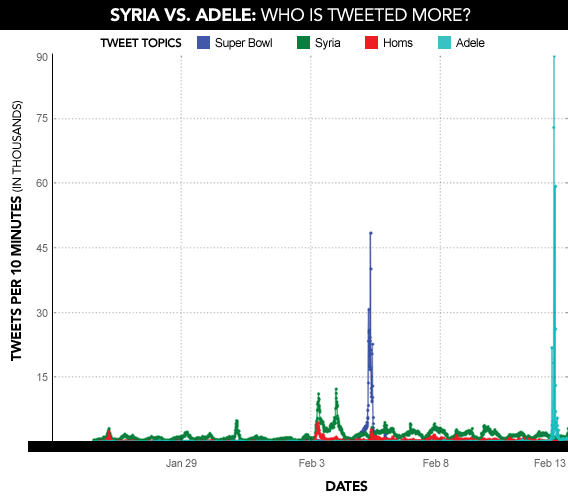 Length: The revolution in Egypt was relatively short, fast, and explosive. The Syrian uprising, by contrast, has been going on for 11 long months. Certain moments have refocused the world's attention, such as the siege of Homs in early February or the deaths of journalists Anthony Shadid, Marie Colvin, and Rémi Ochlik. Otherwise, much of the Syrian uprising has tragically resembled, as NPR's Andy Carvin puts it, "the proverbial boiling of the frog." While Carvin and others have been devotedly tweeting about Syria, he acknowledges that the length of the uprising might deter some news coverage. "I could imagine editors saying, what's the new angle here?" he says.

Accessibility: Mainstream media have had very limited access to Syria, and some of the journalists brave enough to tread there have paid with their lives. Blogger Ahmed al Omran points out that social media and mainstream media tend to be mutually reinforcing, so the dearth of one affects the other. It doesn't help that Syrian authorities have attempted to rein in the limited online activity that exists. But access is only part of the problem. Because of ongoing repression, Syrians are generally less likely to tweet or blog under their real identities. Egyptians, on the other hand, have been tweeting and blogging with their real names for years. So when the revolution began, they weren't simply avatars or anonymous freedom fighters. They had defined online personalities and sustained connections with followers abroad, who in turn could retweet their messages to a broader general audience. 

Unreliable narrative: Information that relies heavily on citizen reports or unconfirmed accounts is a double-edged sword. Yes, we feel like we are finally getting the unfiltered story. The downside is that news from faceless sources can be much more difficult to verify. In one notorious hoax, a blogger who claimed to be a lesbian from Damascus turned out to be a middle-aged American man. A larger problem is that for the average observer, the Syrian uprising lacks a clear and consistent narrative. The Assad regime's brutal repression is plain to see, but other aspects of the 11-month uprising are less clear. Some ask: Who exactly is the opposition, and what do the majority of Syrians actually want? Jillian York of the Electronic Frontier Foundation says that this confusion and lack of context spreads to the Twittersphere. With some exceptions, the Syrian tweeps who "are tweeting in English are not tweeting in the same way as Egyptians. They are not providing accuracy and context, nor is it really specific or retweetable."

Offline realities: Social media is not an alternative universe. Offline truths will shape how Syria is talked about online. On the most basic level, Syria has a far smaller population than Iran or Egypt and a less vociferous diaspora. But the larger problem is that there is no clear or easy solution to Syria's suffering. Furthermore, the United States has less leverage in Syria than it did in Egypt, for example. These feelings of offline helplessness will surely dampen activity online. Nasser Weddady of the American Islamic Congress put it best in a Feb. 3 tweet: "Mankind has never been so connected as it is today. Yet, we stand powerless."
This article arises from Future Tense, a collaboration among Arizona State University, the New America Foundation, and Slate. Future Tense explores the ways emerging technologies affect society, policy, and culture. To read more, visit the Future Tense blog and the Future Tense home page. You can also follow us on Twitter.