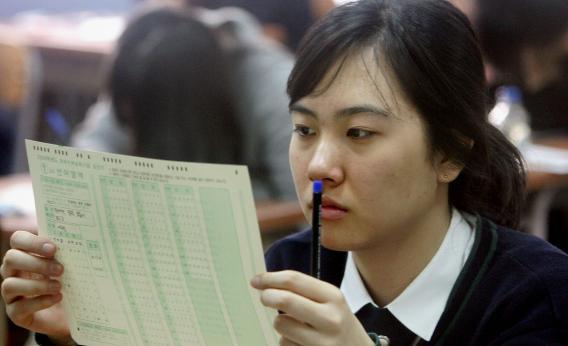 Last night, New York's CBS 2 aired a report about a proposed plan to make the SAT and ACT exams imposter-proof using "digital DNA." Today, the company behind the scheme, Applied DNA Sciences, will present its technology to legislators in New York state. Presumably, Applied DNA Sciences hopes the state will invest in its system in hopes of thwarting enterprising students hoping to copy the Long Island teenager who allegedly made thousands of dollars taking the SAT for at least 15 of his classmates.
The TV segment and accompanying article on this "digital DNA" have riled some civil libertarians worried about any plan to collect students' genetic information; for instance, Anonymous tweeted to its more than 400,000 followers, "Hello 1984!" Others are riled up by the idea that the SATs would receive biometric security measures, while voting would not.
One problem with the backlash: There's no human DNA in the proposed "digital DNA system." Rather, students would be issued ID cards that contain plant DNA, which is what Applied DNA Sciences claims makes them counterfeit-proof. This important point isn't at all clear in CBS 2's confusing Web article or segment. (In a demonstration of their unfamiliarity with this technology, the site stylized a reference to the cloud as "the 'CLOUD.' ") Furthermore, CBS 2 doesn't mention that the scientist interviewed for the report is the CEO of Applied DNA Sciences and therefore has a financial interest in the technology.
This is how people end up fearing new technologies.
---