Astronomers Without Borders is a good group of folks. They're a non-profit organization dedicated to bringing people together from around the world through a common interest in astronomy. Sounds pretty good to me. Their mission is to inspire people through astronomy… another idea I can't argue with.
In fact, they put their money where their mouths are. They participate in several projects to spread the word about astronomy, including Sharing Telescopes and Resources – to get unused telescopes and other materials to places that need them, including developing countries – and The World At Night, promoting photos and time lapse videos of the Earth's landmarks against the night sky.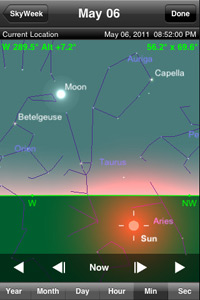 I support their efforts. To raise money, they've partnered with Southern Stars, the makers of Sky Safari 3, an astronomy app for the iPhone and iPad. I use Sky Safari myself and it's pretty slick; it really helps you figure out what's up in the sky. The good news is, the app is on sale for 60% off from now until December 8, and 40% of all proceeds will be donated to Astronomers Without Borders. You can download it at the Apple Store. There are three versions, Basic ($0.99), Plus ($11.99), and Pro ($29.99), so you can pick what level you like. I'll note it would make a good early holiday gift for the astrogeek in your life (assuming that's not you).
If you've been reading my blog for any length of time, you know how important it is to me to get people looking up, to have them appreciate the nature and wonder of the Universe. Astronomers Without Borders shares this feeling, and goes out and does something about it. If you can, lend 'em a hand.
---