The comet called Lovejoy is still putting on an amazing show for folks south of the Equator. Stéphane Guisard, an astrophotographer who takes stunning pictures of the sky (see Related Posts, below), was in Chile where Lovejoy is making a splashy scene just before sunrise. He created an amazing and lovely time lapse video of the comet, showing just how incredible this ephemeral visitor is:
[The video is hosted on Vimeo; if you have a hard time seeing it, there's also a copy on YouTube. Either way, make sure the resolution is set to its highest setting, and make it full screen.]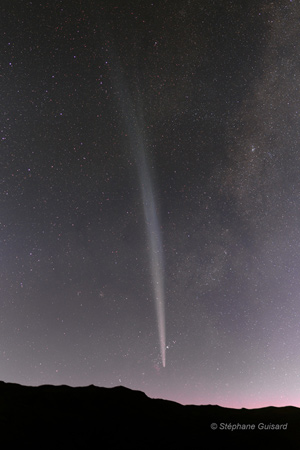 That's phenomenal. The comet is seemingly pinned to the tail of the constellation Scorpius, deep in the path of the Milky Way. You can see some of the stars of Scorpius around the comet as well as a few deep-sky objects like clusters and nebulae.
The tail of the comet – made of dust particles and gas streaming from the solid, frozen (and quite tiny) nucleus of the comet as it's heated by the Sun – is millions of kilometers long; the comet was over 100 million kilometers from Earth when these pictures were taken!
If you live in the southern hemisphere, the comet is visible just before sunrise; face east to see it. Binoculars should help. Finder charts are all over the web; Heaven's Above is one I use quite often. You'll want the darkest skies possible, and a clear horizon.
What a week for observing! All 8 planets are visible in the sky, from Mercury to Neptune (you'll need binoculars at least for Uranus, and a telescope for Neptune; again check Heavens Above for a chart), as well as the Moon, and this spectacular and short-lived traveler. It's almost enough to make me want to catch a flight to the Outback and set up camp, just for this chance at a long and once-in-a-lifetime night of viewing.
Credit: Stéphane Guisard, used by permission.
Related posts:
- INSANELY cool picture of Comet Lovejoy
- Time lapse video: ISS cometrise
- Orion in the Mayan skies
- Top Ten Astronomy Pictures of 2009 (see #3 for Stéphane's picture)
- AMAZING wide-angle time lapse night sky video!
- Time lapse: old rocks and old skies