OK, fine. I'm too much of a sap to leave y'all at the end of the year with a floaty shark balloon. So instead, I'll leave you with some astonishing beauty: Terje Sorgjerd's time lapse animation "The Aurora":
Wow. Make sure it's set to HD and make it full screen!
As devastating and haunting as the northern lights are, my eye kept being drawn to the stars themselves. I recognized some constellations, but their movement across the sky was just so odd: instead of heading up or down, many were going sideways, parallel with the horizon. I hadn't read the video notes yet, so when I saw that, my first thought was, "Holy cow, how far north was he?!"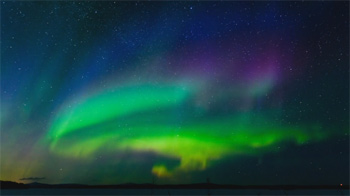 Turns out, really, really far. The video was shot at Kirkenes and Pas National Park in northern Norway – yes, northern Norway, around 70° north latitude. As an example, down here at more temperate latitudes, Vega gets pretty high in the sky, almost directly overhead. But that far north it doesn't; in fact, that far north Vega never sets! It's a circumpolar star, like Polaris itself. You can see that for yourself in the video: Vega is the bright star near the center of the frame starting at 21 seconds in. It's in the video for about 10 seconds, and you can see it's moving downward in a slow arc, but clearly won't get anywhere near the horizon.
In the very next sequence you can see Orion right on the horizon, faded due to the Moon. But where I live, in Boulder, over the course of the night Orion rises on his side, arcs up to the south until he's standing upright, then sets on his other side. In the video, though, he's upright and slowly, slowly sinking at a shallow angle.
What a difference latitude makes! The aurorae are usually only visible from extreme northerly or southerly latitudes – though sometimes, after a big solar storm, they can be seen toward middle latitudes – so that's an obvious difference. But the stars themselves tell the story of our round planet.
We live on a ball! And it spins through space, once a day, sweeping around a star in a period about 365.24 times that long, which itself circles the center of the Milky Way once in a period 220 million times longer than that, as it's done only a score of times since its birth.
That's quite the story. And the best part? It's true.
Keep that in mind as we start our next turn around the Sun. Maybe it'll help keep things in perspective.
Happy new year, folks, and may 2012 be ruled by reason and reality.
---