I am extremely honored and pleased to announce that my talk, "An asteroid impact can ruin your whole day", is now featured on the TED website!   I gave this talk in September at TEDxBoulder, and I had a fantastic time. The talks were great, and it was wonderful to be a part of that. However, I made two errors in this talk. One was logistical; I forgot to say that the "dinosaur space program" line is from science fiction writer Larry Niven, and for that I apologize to him – I usually do credit him, so I'm not sure what happened there. The second error?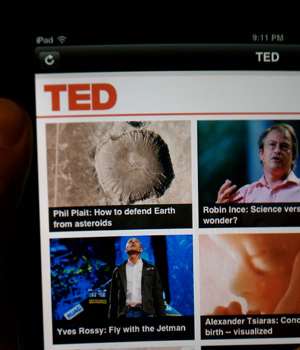 I blew it when I said April 13, 2036 was a Friday! It's actually a Sunday. When the asteroid Apophis passes on April 13, 2029, though, that's a Friday. I use that line as a joke – I'm hardly a triskadekaphobe – but I misspoke here. Mea culpa, tempus fugit, et per ardua ad asta. However, some serious coolness: BA Twitter follower @RossHowell noticed that my video was on the TED iPad app, so I downloaded the app and took the picture here. It's weird to be on my own iPad. It makes me feel, um, appley. And finally, more cool news: I'll be doing a live Q&A on the TED website! I'm talking with them now about it, and I'll have the date and time soon – I'll update this post and make sure I put it up on Twitter, Google+ and all that when I have more info.  
---
Related posts: - TED x ME
- Europeans are taking the asteroid threat seriously
- New study finds giant impacts aren't periodic
- Repeat after me: Apophis is not a danger!