Tonight at 6:00 p.m. Pacific (US) time (02:00 UTC) I'll be participating in the Desert Bus campaign to raise money for Child's Play, a charity that supports kids with cancer.
Desert Bus is a videogame produced as part of a package of minigames for Penn & Teller; in it you can drive a bus across the desert in real time. That's it. Nothing of any real import happens in the game, ever. That's the joke.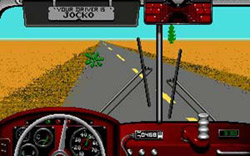 However, something of very large import indeed has come out of it. An internet comedy group started the Desert Bus for Hope campaign, where they play the game live-streamed over the 'net continuously for days, raising money for Child's Play, a charity which gives video games to sick kids. If you wonder why they would do that, then please please please read this blog post by my friend Liz Smith, who makes it very clear why this is important work.
Tonight, I'll be doing a live video call-in to the Desert Bus folks, and I may just have some swag to send to someone who donates. You'll have to tune in to find out. And if you miss me, there are lots of other cool kids calling in, like my man-crush Wil Wheaton, my woman crush Felicia Day, and two people I'd like to crush, Paul and Storm.
This is a fun chance to donate money to a really, really great charity, and help out kids who could really use it. That's why I'm doing it, and I hope it'll help raise some spirits. If you can, please help out.
[UPDATE: They have added a photo I took of some swag I am donating to a silent auction that will be held on Wednesday 11/23 at noon Pacific time.]
---