[UPDATE: SUCCESS! The launch was just about perfect, and Curiosity is now on its way to Mars, scheduled to land in August 2012. Congrats to everyone on the mission!]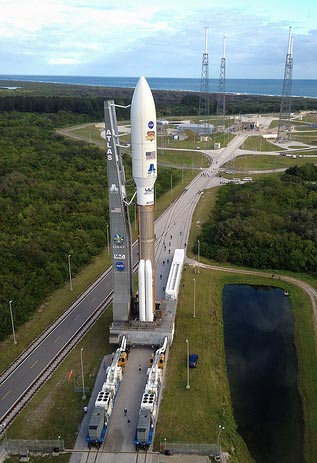 Tomorrow, Saturday, November 26 at 10:02 Eastern (US) time (15:02 UTC), an Atlas V rocket carrying the Curiosity Mars rover will blast off from Florida, sending the sophisticated rolling lab to the Red Planet.
You can watch the launch live at NASA TV, or I recommend on the NASA/JPL UStream channel. I imagine I'll be up and tweeting about it, as will my pal Emily Lakdawalla.
It is no exaggeration to say that Curiosity is a huge leap forward for Mars exploration. Designed to last for nearly two years, it's 3 meters long – the size of a hefty golf cart – and its scientific payload is ten times more massive than its predecessors. It has instruments (PDF) that can sample and taste the air and surface, imagers to provide high resolution stereo pictures, a laser to zap rocks and get their spectra (which yields their composition), and even a camera that will take video of the last two minutes of its descent to the surface to provide aerial context for its cameras once it lands.
If you thought Spirit and Opportunity were cool – and you'd be right – Curiosity will up the ante considerably. I'm very excited by the prospect of the science this rover will do, and the exploration it's capable of as a precursor, eventually, to a human being stepping foot on this odd, dry, and cold neighboring world.