When Steve Jobs unveiled the iPad 2 in March, he got his biggest cheer for a product feature that doesn't seem especially useful. "It comes in two colors," he said. "Black and white—and we're going to be shipping white from day one!"
Jobs was referring to Apple's long delay in releasing a white iPhone 4. Apple had offered white as an iPhone color option since the launch of the 3G in 2008, but because only the more expensive, 16-gigabyte phone came in white, it had never been as popular as the black. But when Jobs unveiled the iPhone 4 last summer, the white model—for reasons that aren't exactly clear—seemed to captivate prospective customers. Anticipation built when the white iPhone didn't come out on launch day, and people got even more heated up when Apple gave no indication about when it might go on sale.
On the one hand, the excitement didn't make any sense—a white iPhone was no different, functionally, from a black one. On the other hand, it's white! White is in! If you're buying an iPhone or an iPad, you clearly care about the aesthetics of your device—and if you care about how your gadget looks, why wouldn't you want a white one? After all, everyone knows that all gadgets are better in white.
The white iPhone 4 finally went on sale last spring, 10 months after the black iPhone 4 hit the shelves. On Tuesday, Apple unveiled a new iPhone, the 4S, which will also come in both black and white. Apple says both colors will go on sale at the same time, Oct. 14. Given the anticipation, the white is sure to be a popular choice. But that prompts a question: Why are Apple fans so gaga for white?
Because Steve Jobs primed them to love it. This is one of Apple's underappreciated skills: The company makes us covet certain colors today, while also making us scoff at the colors it convinced us to covet yesterday. Every few years, Apple cycles through a new palette for its gadgets—it goes from white to black to multicolor to silver and back again. As it shifts, the whole gadget world moves along, too.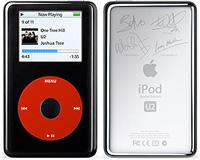 Not long ago, white was nothing special for Apple. Many of its mass-market products—including its consumer-grade notebook, the MacBook, and the ubiquitous iPod—were white as white could be. In 2005, Apple released a "U2-edition" iPod, one that cost $30 more than a standard white iPod with the same capacity. The year after that, it revamped its MacBook line, and at the top of the chain—for $200 more than a white model with the nearly identical specs—sat a laptop that Apple described as "stunning." What color were these special, high-priced versions? Black.
If you skim through the company's history, you'll find that Apple wasn't always so obsessed with colors. In the late 1980s and '90s, when Steve Jobs was exiled from the firm, Apple's computers came in the same muted shades as every other company's PCs. Look at Apple's first portable computer, the Macintosh Portable, which went on sale in 1989. You wouldn't call it a "laptop," really—it weighed 16 pounds—but Apple had clearly spent a great deal of time perfecting its design. The machine, which cost $6,500, packed as much power as a full-size Mac in about half the space. But it came in only one color: white. The machine didn't sell, and it was quickly discontinued. It 1991, Apple launched its PowerBook line of laptops, which would go on to see monster sales for the rest of the decade. Apple made subtle shifts in the design of the PowerBook nearly every year, but one thing always remained the same—you could get the machine in any color you wanted, so long as you wanted a shade of black-puke-green.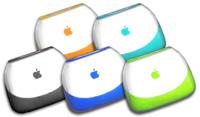 Apple began spinning its color wheel after Jobs' return in the late 1990s. There was, famously, the first iMac, unveiled in 1998. At the press event, Jobs—wearing a suit!—told the crowd that Apple had surveyed the rest of the PC industry, and it found that all consumer-grade computers had one thing in common: "These things are uuugly!" The iMac was made of translucent plastic, and it came in a color that no other PC had ever sported—blue. (Apple called it "bondi blue ice.") That machine set off a three-year colored period for Apple—there was a line of fruit colored-iMacs (lime, strawberry, blueberry, grape, tangerine), and then a few special-edition colors, like Indigo, Graphite, and Snow. By then the iMac had been joined by the clamshell-shaped iBook, which also sported more colors than a box of crayons.
But then, around the turn of the century, Apple put away the colors. It launched a new iMac and iBook that came only in white. This set the stage for the iPod, also white. The PowerBook, meanwhile, ditched black for something more rarified—titanium. Since then, Apple has ventured into multiple colors only for its smallest devices—the iPod Mini, the iPod Nano, and the iPod Shuffle—and it has stuck to white, black, and silver for the rest of its line. In the last couple years, it has shrunk its color palette even further: In July, it discontinued its last white computer, the low-end MacBook. Now every Mac, from the lowly Mini to the mighty Mac Pro, comes in aluminum only. The iPhone and iPad come in just black and white.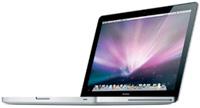 This small range of colors suggests that Cupertino is priming us for another shift. Apple tends to change colors when it discovers new materials or manufacturing processes. The first iMacs and iBooks were made of translucent polycarbonate plastic that was easy to make in multiple colors. Apple has since shifted to materials like aluminum and glass, and—for its laptops—it uses a "unibody" construction process, machining the computers from a single block of aluminum. Apple is also now operating on a much larger scale than it was in the colorful 1990s. Back then, Apple sold just 1 or 2 million iMacs a year. Now it sells tens of millions of devices a quarter; it has sold 29 million iPads since that device's release. It's obviously easier to produce that many devices in just two colors—and clearly the lack of colors isn't harming sales.
But Apple also uses colors to signify newness. Once it masters a particular material or manufacturing process, it offers second- and third-generation products in different shades—and it makes the colors a key part of its marketing. A new color, for Apple, can represent as much of a reason to upgrade as a new processor. See, for instance, what happened with the iPod Nano: The first version, released in September 2005, came in black or white. The next Nano, released a year later, did pretty much the same thing as the first. But now it came in colors. How could you not upgrade?
We seem to be at that same point in the life cycle of the iPad and iPhone, too. From now on, it's going to be difficult for Apple to change how each of these products looks—you can't do much to a single slab of glass. So what's left to play with? Colors. Watch for the iPad 3 to come in lime. And then watch how everyone will go crazy for a limited-edition model that comes in a special, never-seen-before shade of … black.