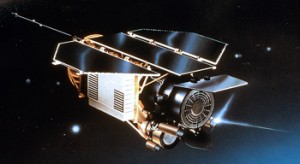 Last month, after the UARS satellite burned up over the Pacific, I mentioned that the German Astronomical satellite ROSAT will be burning up soon as well. It's looking that will happen next week, with some models pointing to October 23rd. The exact time and even the date are still a bit uncertain, because it's impossible to perfectly model the incredibly complex interaction between the satellite and the very thin atmosphere hundreds of kilometer up.
Emily Lakdawalla at The Planetary Society Blog has a nice write up of this, as does Dan Vergano at USA Today (featuring a quote by me, of all people, from that post last month). I imagine Space Weather will have info too as it comes out.
There's a ROSAT Twitter stream with fairly up-to-date information as well. I'll be paying attention to that carefully.
Just to be clear, I'll state that even though more pieces of this satellite will survive re-entry than UARS did, the odds of anyone getting hit by a piece are still many thousands to one against, and of any particular person getting hit (meaning you) are trillions to one against. So while I don't want satellites to fall from the sky every day, I'm not too concerned over this one.