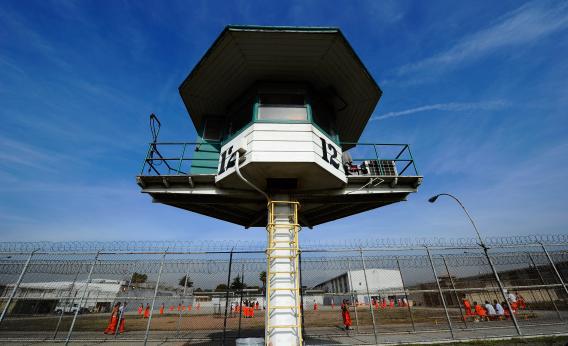 It's not easy for a longtime prison inmate to go from life behind bars to life on the streets. As anyone who has seen The Shawshank Redemption knows that. But this is a little extreme.
The San Antonio Express-News reported this weekend that one man, Randall Lee Church, felt so alienated after his release from prison that he committed arson to earn his way back inside. Church told the Texas newspaper that he was shaken by parents who tugged their parents away from him in Wal-Mart and that he missed his job inside the prison. But he also seems to have been confused by the new technologies that infiltrated society in the nearly three decades since he entered prison in 1983 for fatally stabbing a man. The San Antonio Express-News reports:
Fellow inmates warned Church he was in for a shock. He didn't believe them, thinking they were angry or envious he would soon walk free. Days after he was released, he realized they'd been right.
Prices were higher and scanned with bar codes. Video games were more realistic. People were always on their cell phones. Cars had childproof locks.
Meanwhile, says Church, "I didn't know how to use computers or cell phones or the Internet." About three months after his release, he set an abandoned building on fire, then turned himself in (after savoring a hamburger and milkshake).
Some inmates keep up with technology when they're inside prison. Just last month, California prison officials cracked down on inmates updating their Facebook pages. (One technology prisoners don't like: bulky iPhones. Apparently, "They take up too much … real estate.") Other prisons offer limited access to email or computer classes (though Illinois cut its program in 2010 after deciding that former inmates didn't get enough tech-related jobs to justify the cost). But the tech-savvy inmates seem to be those who are relatively new to prison, or who have at least spent some of the last few years on the outside. Inmates who have spent decades in the corrections system are sort of like time travelers; in a 2010 episode of MTV's True Life, a man released from prison after 16 years behind bars is baffled by his son's cell phone. The Web is full of videos demonstrating how quickly children adapt to iPads and other technologies. It might be interesting to one day read the account of a convict struggling to pick up the gadgets—and pace of digital life—that have emerged since his incarceration.
Read more on the San Antonio Express-News.
---