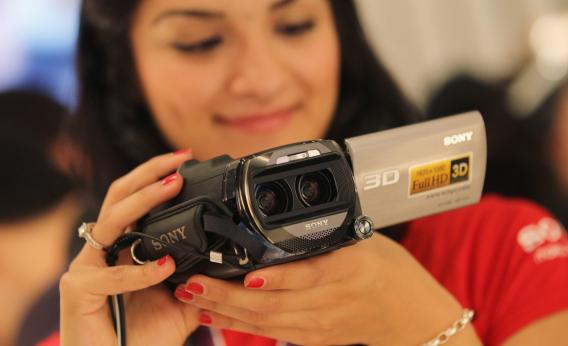 First they came for the sports writers. Then automation began knocking other reporters' doors. Next in human-free media jobs: film editing.
A new company called Magisto launched today, and while the automated video editing site's work probably won't be honored at the Oscars any time soon, the premise is pretty impressive. Magisto takes your raw video footage and packages it up automatically, so you can share with friends and family. Clearly, the company isn't aiming for the auteur market: The home page asks, "Isn't video editing too complicated and time-consuming?" If you answered yes to that, then its promise does indeed sound appealing: "Magisto picks out all the best parts and edits them together automatically, so you can have a great video of your trip to share with your friends and family in minutes." You can submit up to 600 megabytes from 16 video files to compile into one short highlight reel. Just add a title and select a soundtrack (or upload your own), and voila.
The upside: Next time your cousin wants to show you footage of his trip to Yosemite, you'll only have to maintain your impressed face for a few minutes—and maybe that five-minute shot of him fiddling with zoom and focus will be left on Magisto's proverbial cutting-room floor.
If this has you a little frightened, consider coming to the Sept. 29 Future Tense event on robots encroaching on white-collar jobs, featuring certified human (and Slate Technology columnist) Farhad Manjoo. It'll be held at the New America Foundation office in Washington, D.C. If you won't be in town, have no fear: We're webcasting.
Read more on Mashable.
---