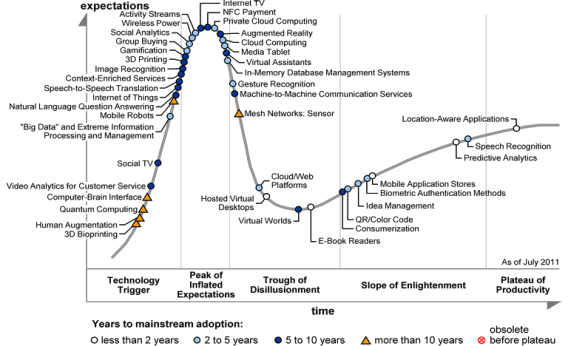 What will the blockbuster technologies be in the next 10 years? The information technology research and advisory company Gartner has released its annual "hype report," which attempts to reconcile technologies' hype with a realistic timeline. Technologies that are overhyped, according to Gartner, end up being disappointing. The company predicts:
In less than two years, we'll have widespread adoption of predictive analytics
In two to five years, cloud computing, wireless power, and gesture recognition will be mainstream
In five to 10 years, expect 3-D printing, speech-to-speech translation, and augmented reality
Still at least a decade out are human augmentation, 3-D bioprinting, and mobile robots.
Read more on Smart Planet.
---