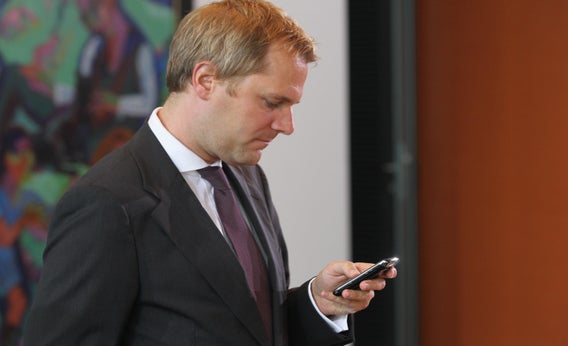 A new report from the Pew Internet & American Life Project examines how we use cellphones. Many of the findings are pretty obvious: People turn to their phones to look up information quickly, to handle emergency situations, and, of course, to "stave off boredom." Eighty-three percent of American adults "own a cell phone of some kind," and one-third of those are smartphones.
On Wired's Epicenter Blog, John C. Abell calls out one finding from the report: 13 percent of adults—and 30 percent of 18-to-29-year-olds—use their phones to avoid interacting with people. "If you pretend to use your cell phone to avoid talking to others, congratulations—you are part of the rudest 13 percent of the American public." Abell also says that those folks are lazy: "[I]f you need to pretend to use your cell phone, like that disingenuous 13 percent, you're just being lazy—Cut the Rope, or even Centipede, is just as good for evading conversation with strangers as a fake phone call."
I'll admit to having turned to my phone for just such a purpose, particularly at parties. But I'd like to think of it as a coping mechanism for nervousness, not laziness or disingenuousness. So is it rude to pretend to fiddle with your phone to avoid socializing? What if you're trying to avoid talking to street canvassers? Share your thoughts in the comments.
Read more on Wired and Pew Internet & American Life Project.
---