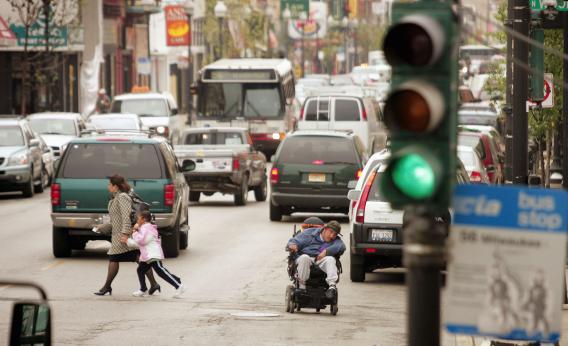 The expression "road rage" isn't so much in vogue in anymore, but who among us hasn't felt an irrational sense of irritation when confronted with a string of red lights? For those with tendencies toward driving-induced aggravation, there are two stories in the news today that suggest relief may be just a few years (and many, many miles) away.
First, Fast Company calls our attention to an app called SignalGuru, created by researchers from MIT and Princeton, that "uses a network of smartphones mounted on car dashboards to estimate traffic light patterns. … The application snaps photographs of an intersection from several approaching cars. With that information, the program estimates the time between light changes." Then, the app tells you how fast you should drive to avoid hitting red lights, leading to a smoother ride, less gas used, and fewer emissions. SignalGuru works best on a timed light-changing system. During a test in Massachusetts, drivers who used SignalGuru reduced gas consumption by 20 percent. One next step is to give the app a voice, so users don't spend their time staring at their smartphones instead of the road.
Meanwhile, Microsoft Research has been working on a way to bring taxi drivers' road wisdom to the rest of us. Technology Review writes that researchers developed a route-recommendation system for Beijing after attaching sensors to tens of thousands of taxis. The system determines the fastest route after taking into account traffic patterns, weather conditions, and drivers' personal styles—like whether they prefer highway driving, are familiar with a location, or are aggressive on the road.
These systems, and other drivers' little helpers, seem to be babysteps toward automated driving. Perhaps the psychological hurdle of giving control over to a computer will be less daunting if you already trust systems to dictate your speed based on red lights and to demonstrate familiarity with your roadway preferences.
Read more on Fast Company and Technology Review.
---