Randy Halverson is a photographer who makes incredibly stunning time lapse videos of the sky. And he's done it again: "Tempest Milky Way", an aptly-named video showing the serene depths of the night sky as a background for furious activity much closer to home:
[Make sure it's set to HD, and make it full screen. You're welcome.]
Holy wow! It's beautiful enough just showing the stars, but then at 2:20 things really get interesting as storms blow in. There's lots to see, but keep your eyes open at 1:57 for the silhouette of a whitetail deer on the horizon, and at 3:24 for a meteor that pops into view… and is reflected in the lake!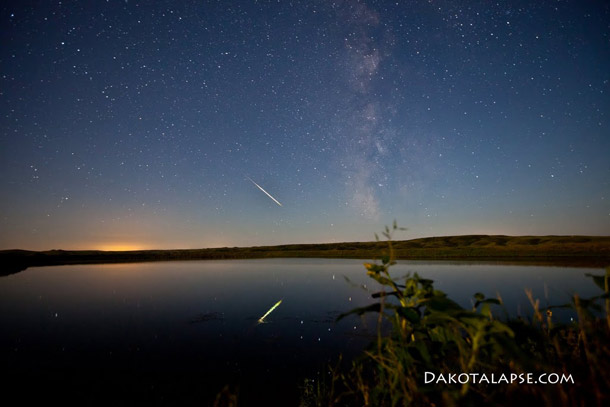 It's a breath-taking shot, isn't it? And it's a testament to Halverson's talent, which you can see more of at his website DakotaLapse. I love how the motion of the camera (especially moving up through the corn field) adds a magical sensation to the video. And while time lapse photography like this shows us a dimension we can't see easily with our own eyes, it's real nonetheless. Never forget that: the Universe is beautiful, spectacular, and marvelous. Our job is to appreciate it, and try to understand it better.
Credit: Randy Halverson, used by permission.
Related posts:
- Gorgeous Milky Way time lapse
- Time lapse: Orion
- Stunning winter sky time lapse video: Sub Zero