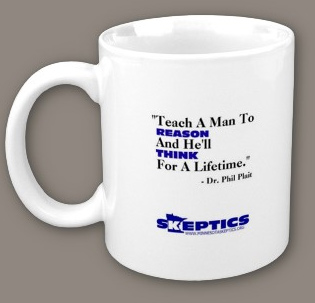 My pal Melissa Lee is the head organizer of the Minnesota Skeptics (some NSFW language there). I met her at TAM in 2010 and we hit it off; she's smart, funny, and sassy; characteristics I see in a lot of my female friends. Probably not a coincidence.
She asked me recently if she could use a quote of mine to help raise money for the group, and I said "Sure!" The result: the coffee mug seen here. The quote is from my 2010 TAM talk; it's a variation on the old aphorism, "Give a man a fish and he'll eat for a day; teach a man to fish and he'll eat for a lifetime"*.
The main point of that whole talk was to make sure people were aware of their goal when discussing skeptical topics with people who aren't being skeptical; and despite the details of how to do it, my goal is always to promote the idea that all of us need to think more reasonably. In fact, we need to make it a lifetime habit.
Melissa created other swag items, including t-shirts (like this nebular one I like particularly), all of which help raise funds for a group which has that same goal: promote critical thinking. If you live in the Minnesota part of the country, check them out.
* When I was writing that speech, I struggled with making the phrase less sexist, but couldn't get it to work. I think that happened because I was already changing the basic aphorism, and changing the word "man" to anything else made it harder to identify the original phrase, losing the flavor of the quote. I wound up leaving it in. Playing with words is funny, and leads to odd insights sometimes.