For the TL;DR crowd: an artist buddy of mine has drawn the cartoon print seen here, and is auctioning it off on eBay.
OK, now the details: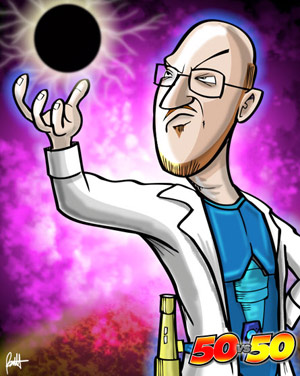 My buddy Len Peralta – the fantastic comic artist of Geek A Week and w00tstock fame – has started a fun new series of drawings called 50vs50. The "50" refers to 50 heroes and 50 villains, and he's selling them. Literally.
You submit the name and characteristics of said heroes and/or villains, and, for a fee, he'll draw them for you and send you a signed print.
I found out about this when Google Alerts notified me of the drawing here entitled, simply, The Astronomer. The noble pate, the steely determination, the ability to manipulate black holes… the resemblance to that guy I see in the mirror when I shave was striking. And sure enough, Len told me he based it on me.
Me, a hero. Awesome. I love Len.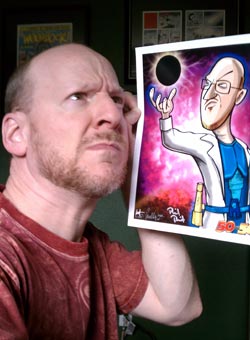 Anyway, Len is doing this to raise money so he can go to San Diego Comic Con this year; he was accepted to attend as an industry professional, which is very cool. 50vs50 is his way to raise cash and have fun doing it.
Len and I then hatched a plan: He printed a second copy of The Astronomer, sent it to me, and I've signed it. I have it right here on my desk, in fact. Do you want it? Then bid on it! Len has put it up for auction on eBay. I'll send it to the winner from BA HQ here in Boulder. And what the heck, I'll throw in a few miscellaneous spacey items I have lying around here, too.
The auction runs through Saturday, April 23, and ends at 7:30 a.m. PDT (14:30 UT). Get bidding!