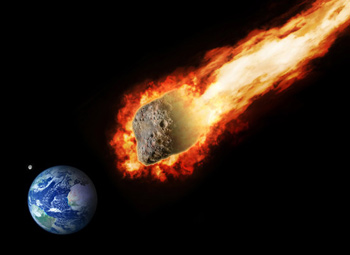 I have a new article up on Blastr, the SyFy channel's web site for news and info and scifi-y stuff.
The article is about asteroid impacts, and the lack of Hollywood accuracy thereof. I take a typical movie synopsis and destroy it plot device by plot device. It's like taking all my movie reviews and condensing them down into one run-on snark.
And yes, I know that the illustration for the article (seen here) is scientifically inaccurate. I know what you're thinking; it's so obvious: no asteroid is actually flying saucer shaped! At least, that's what they want you to think*.
So go over there, read the article, and leave your own complaints in the comments. I promise I will read them all and take them into consideration†.
* Dear readers with an impaired sense of humor: I know that's not really how the picture is scientifically inaccurate. Of course, the actual mistake is that you should see thousands of stars in the background.
† No I won't.
Related posts:
- Blastr: Other than that, Spock, how was the movie?
- Blastr: I Was A Zombie For Science
- Big budget movies that got their science right
- Master of Blastr