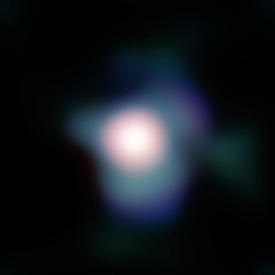 I swear, I need to trust my instincts. As soon as I saw the article on the news.com.au site desperately trying to link Betelgeuse going supernova with the nonsense about the Mayans and 2012, my gut reaction was to write about it.
But no, I figured a minute later, this story would blow over. So to speak.
I should've known: instead of going away, it gets picked up by that bastion of antiscience, The Huffington Post.
Grrrr.
The actual science in the original article is pretty good; they talked with scientist Brad Carter who discusses the scenario of Betelgeuse going supernova. The whole story is pretty interesting – I wrote about it in detail the last time there was nonsense about Betelgeuse blowing up – but in a nutshell Betelgeuse is a red supergiant star in Orion with about 20 times the mass of the Sun, and it's very near the end of its life. When stars this massive die, they explode as supernovae. The distance to Betelgeuse is unclear (it has a very puffy outer atmosphere which makes distance determination somewhat dicey) but it's something like a bit more than 600 light years, way way too far away to hurt us.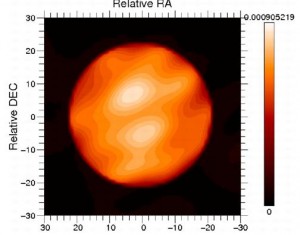 It's the question of when that the two articles go off the rails. Betelgeuse may explode tomorrow night, or it may not go kerblooie until the year 100,000 A.D. We don't know. But given that huge range, the odds of it blowing up next year are pretty slim. And clearly, the original article was really trying to tie in the 2012 date to this, even when it has nothing to do with anything. The tie-in was a rickety link to scuttlebutt on the web about it, but that's about it.
What's worse, the HuffPo article attributes the date to Dr. Carter himself, but in the original article he never says anything about it; the connection is all made by the article author. Given how popular HuffPo is, I imagine a lot of people will now think an actual scientist is saying Betelgeuse will blow up in 2012.
OK then, tell you what: I'm an actual scientist, and I would give the odds of Betelgeuse going supernova in 2012 at all – let alone close to December, the supposed doomsdate – as many thousands to one against. It's not impossible, it's just really really really really really really really unlikely.
Really.
[UPDATE: CNN, Time, and other sites have picked up on this as well, mostly just repeating what was said in HuffPo. Fox News got it right, quoting me from my earlier Betelgeuse article, but I had to laugh: they got my blog name and host wrong, and the link they put up for me goes to my friend Ian O'Neill's article!]
I'm glad that both articles are clear that there is no danger from the star if and when it explodes. It's simply too far away to do us any physical harm; a supernova would have to be within 25 light years or so before it would start to do measurable damage to Earth, and it would have to be much closer before that harm rose to the level of actual danger.
At 600+ light years, a supernova would be pretty bright, but hardly bright enough to be a second Sun, as both articles say. Sorry, no Tatooine-like sunsets for us. It wouldn't even be as bright as the full Moon, really, but certainly far brighter than Venus. Enough to cast a shadow, which would actually be pretty cool.
And even better would be the science! Oh my, a close supernova like that would be a huge boon to astronomy. The ones we see are all so far away that details are too small to detect, but one that close would be like having it under the microscope*. We'd learn a huge amount. The funny thing is, it would be so bright astronomers would have a hard time using their best equipment, which would get swamped with all that light. I wonder how many amateur astronomers would suddenly find themselves able to do science the professionals couldn't…
And of course, the best thing of all in having Betelgeuse explode is that it would bring billions of people outside and looking up. Betelgeuse is in a part of the sky that makes it visible everywhere on Earth but pretty much the south pole. Far from being a harbinger of doomsday, it might actually be the single greatest benefit to astronomy that's happened in hundreds of years.
Take that, Mayan apocalypse fearmongers!
Tip o' the lead shield to kk074. Image credits: ESO; IOTA; NASA/ESA.
[UPDATE: I just saw that my pal astronomer Ian O'Neill has written about this as well, and he noticed a lot of the same stuff I did about the articles.]
---
* Yeah, that's probably a mixed metaphor, or actually a simile. But you know what's like a simile? A metaphor.
Related posts:
- Is Betelgeuse about to blow?
- No, a nearby supernova won't wipe us out
- Spotting Betelgeuse
- Betelgeuse shocker
- What is the nearest star to Earth that can go supernova?