[UPDATE: And no sooner do I write this than I find out the launch has been postponed until November 30. This decision was made due to the gas leak, but while they were draining the fuel out of the orange external tank, they found a crack in the insulating foam around the tank. This is very serious – as you may recall, it was a piece of foam coming off the tank that doomed Columbia. This means the crack has to be evaluated, and the entire tank re-examined for any more problems. As it happens, the crack is on the side of the tank with the Orbiter on it, so a piece of foam coming off is very dangerous. Ironically the hydrogen leak (described below) may have saved the mission. So the launch is delayed by several weeks, and I'll post again when I have more information.]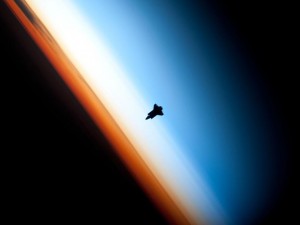 The launch of the Space Shuttle Discovery has been delayed once again, to no earlier than 17:53 UT (12:53 Eastern US time; on Sunday clocks in the US turn back an hour) on Monday, November 8.
It was due to launch today (after weather delays) but a hydrogen gas leak was detected, and NASA takes those very seriously: hydrogen has an unfortunate tendency to explode. It takes time to find the leak and close it up, so the launch has to be pushed back a few days. There is little real danger to the Shuttle by a leak like this as long as it sits on the pad, but launching is another matter, so there it will sit for a while.
This is Discovery's last scheduled flight. It's bringing supplies and such to the Space Station.
By the way, the image above of the Shuttle flying into the sunset is from NASA. It shows the Orbiter Endeavour from February 2010, and was taken from the ISS. Click that for much larger versions; they're quite lovely.
---