[UPDATE: the comments are coming in so quickly the server is marking a lot as spam. Don't fret; if you get a message saying your comment is in moderation, I'll get to it and approve it. Please don't comment twice!]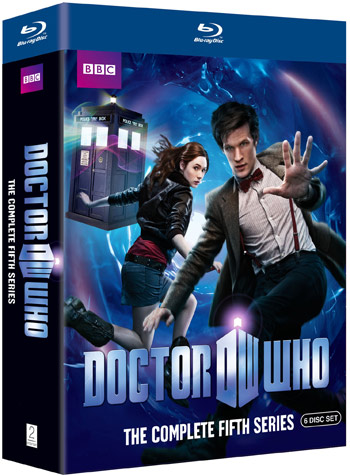 Time for another giveaway contest! And this one spans both time and space: I've partnered with my friends at the BBC (!) and their PR firm Bender/Helper Impact to give away three Doctor Who Series 5 DVD or Blu-Ray box sets!
How awesome is this?
These retail for $50 or more, so here's a chance to get a great early holiday present. This contest will be on the blog only, and all you have to do is leave a comment to enter.
So what are the rules to win this wibbly-wobbly timey-wimey box of stuff?
Alons-y:
0) This contest is free. Also, in case of error or such, I reserve the right to change the rules slightly as needed.
1) This contest is right here in this blog.
All you have to do is leave a comment on this post. It can say whatever you want (don't break my commenting rule, though), as long as you say something. Writing "Phil has a man-crush on David Tennant!" may be true, but won't increase your odds of winning.
2) Only leave one comment. If you post more than one, I will disqualify you from winning, abduct you in the TARDIS, and drop you off at the nearest Cyberman upgrade facility. OK, maybe just that first bit.
3) You have to use a valid email address when commenting, because that's how I will contact you if you win. Leave a Twitter handle too, if you have one, to increase your odds of me being able to contact you.
4) The contest ends on Thursday, December 2, at 11:00 Mountain time (18:00 GMT).
5) At that time, I'll generate three random numbers, and the people with those comment numbers win! I'll notify the winners via email (and/or Twitter), and they will have until Friday, December 3, 2010 at 11:00 MT to respond. If I don't get a response, then that person no longer wins; I'll pick another random commenter as needed, who will have until Saturday at 11:00 MDT to respond, and so on.
6) The winners can choose whether they want DVD or Blu Ray. BE AWARE THAT THE DISCS WILL BE CODED FOR REGION 1. Note that Region 1 for Blu Rays is different than for DVDs. If you don't have a Region 1 (or regionless) player, then you're out of luck, or you have a really good holiday present for a friend. Either way, I will then ask you to send me your mailing address, which I will forward to the folks at the BBC. They will send the box set directly to you.
7) Anyone on Earth (at the present time; given the circumstances I want to be fair, so I won't accept comments from anyone in the distant past or future) is eligible, except for people who know me in real life. I'll leave that up to you to decide if you count or not. People who know me can certainly leave a comment, but they cannot win the bounty. Those comments will count in the random numbers I pick (in other words, if my wife comments, I won't give her the prize, but her comment will be counted in the total number used). Again, please don't comment more than once.
That's it! Geronimo!
---