As I pointed out on Sunday, I think it's essential we excite kids about science. A lot of people think science is dry and boring, and that is utterly wrong: science is not boring, but it's often presented that way.
So what do we do?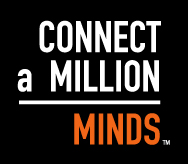 One group has decided to tackle this issue head-on and talk to kids about their attitudes toward science. Called Connect a Million Minds World Wide, they're holding a town hall-style online meeting to discuss it. And they got some interesting folks to participate: Al Gore, astronaut Sally Ride, and MythBusters My Close Personal Friend Adam Savage™ and Jamie Hyneman. This interactive session will be on November 17th at noon Eastern (US) time.
I think this is a fantastic idea. If you're a middle school teacher or have middle school age kids, I think you should tune into this. We absolutely must encourage our children to engage in science, and what better way to find out how to do that than to simply ask them what they think about it?
---