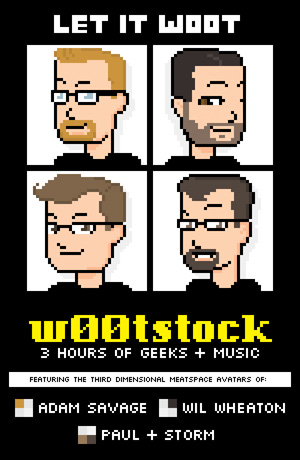 Just a wee reminder: This Saturday night, October 23rd, at 7:30 p.m. in the Boulder Theater is "w00tstock Presents" with Paul & Storm, My Close Personal Friend Adam Savage™, and me! There will be laughter, singing, stories, nerdery, more singing, astronomical naughty bits, and then singing. I might even sing.
Ticket prices were just reduced to $20 for General Admission. If you live anywhere near Boulder or even somewhere between here and UDFy-38135539, you should come. Get tickets here or get marginally more information here, and/or read my overly long slobbering praise of w00tstock here.
Note: Wil Wheaton won't be there, as he has to be in Canada to film "Eureka". We will raise a toast of blood wine to him, then eat gagh.
---