I'm very pleased to announce that once again, Discover Magazine and the venerable telescope company Celestron have teamed up for the Capture the Universe astrophotography contest!
The rules are pretty simple. Just like last year, you have to register on the Celestron images website, read the rules, and then enter your picture(s). An important caveat: at least one piece of equipment you use must have Celestron optics.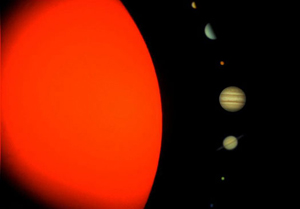 Once again, my mind control beam has worked perfectly: Discover Magazine and Celestron picked me to judge the entries. I won't tell you outright what might win and what might not, but like last year, I'm looking for beautiful images, interesting images, out-of-the-ordinary images. For example, the picture to the left won last year because it was such a cool idea - the photographer took a picture of every planet in the solar system (except Earth, and, for you diehards, Pluto) and the Sun all in the same 24 hour period, then put them together in this montage. You can also check out the other images from last year, too. They're all really amazing shots.
The contest prizes are very nice: a Celestron Nexstar 8SE telescope (retail value: $1199) for the Grand Prize, an Axiom LX31 eyepiece ($399) for the Runner Up, and a 50th Anniversary First Scope ($70) for the Viewers' Choice picture.
The contest starts TODAY, October 1, 2010 and ends on October 30, 2010. So get out there and start snapping.
Clear skies, everyone!