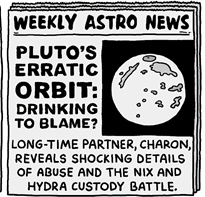 Speaking of Pluto, one of my favorite web comics, Big Fat Whale, has a pretty funny one up about tabloid science.
Poor Pluto. First Mike Brown demotes it, then it's caught in a custody battle.
I'm a big fan of satire, and BFW is a great mirror on society. I suppose some of it is NSFW, but then, that's one of the reasons I work from home. Everything is SFW for me!
---