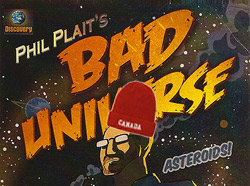 Hey Canadians! "Bad Universe" premieres tonight for you guys on Discovery Channel Canada! It'll be on at 21:00 Eastern time and again at midnight (check your local listings).
Remember, Discovery Canada is showing it because so many of you wonderful folks sent notes to the channel via Twitter and email. I was amazed at the response, and really overwhelmed by it. So here's your chance to get a look. And if you're wondering what I'm talking about, I have to assume that a) this is your very first time on this blog or having contact with me in any way, and 2) you haven't read the reviews saying Bad Universe is the greatest show since anything Lorne Green, Michael J. Fox, and William Shatner have ever done*.
So help out a fellow Canadian (well, honorary Canadian… well, OK, I really like Canada) and give it a look-see. And if you like it, please send the good folks at Discovery Channel a nice note or at least follow them on Twitter (and then send them a nice note).
See you tonight! And thanks for watching. Oh- and of course, Episode 2, called "Alien Attack!" airs on the U.S. Discovery Channel Wednesday night after MythBusters. I'll be having another giveaway contest for that starting Monday, so check back here tomorrow!
---
* Possibly not a literal interpretation of those reviews.
---