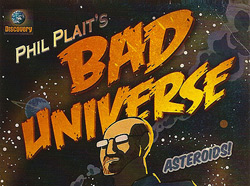 We have a winner! For the Bad Universe swag giveaway, I asked people to leave a comment on the blog to register to win. There were 1774 comments by noon today! I picked a random number using random.org and got 1749. That belonged to Paul C, whom I notified by email. He replied with an address, and the loot will be mailed to him tomorrow!
But don't fret. I have a lot of stuff sitting on my shelf I want to give away, including copies of George Hrab's latest CD, as well as swag from Episode 3! That's not been scheduled yet, so I don't know exactly when the contest for that will be. Stay Tuned.
And I have to add: when the number came up 1749 out of 1774, I had a very, very brief moment of "really?" Silly; I know that random numbers are, duh, random, and are exactly as likely to be 1 or 1774 as anything else. Still, that little credulous part of the brain never dies, and when it saw that the number chosen was only 1.4% away from one of the end points, it sparked a bit.
But that's the a posteriori fallacy; seeing something asinteresting after it happened. Had the number been, say 1724, would that have been as interesting? That's still less than 3% from the endpoint. What about 1000 exactly, or 50?
That's how a lot of psychics, snake oil salesmen, and other fantasy-peddlers make their money: drawing the target around the hole after the gun's been fired. If you think something isn't coincidence, you really need to have the targets drawn up before you do the shooting. Saying something is a hit without knowing beforehand what a hit really is, well, that's cheating.
Anyway, as I write this and post it, the premiere of Episode 2 is just a few hours away. Yay! And don't forget, I'll be live-tweeting the whole thing on Twitter. Go there to get some behind-the-scenes tales and – shocker – bad jokes and puns.
---