If you were curious about what I'm doing tonight, here's my schedule (all times Eastern):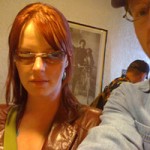 7:00 p.m.: I'll be watching the live stream performance from my friend Marian Call, who is singing at the Think Geek HQ in Washington DC! This is such a high density of nerdery it may collapse to form a black hole. I have links to various marianesque chanteusery in an earlier post about her.
9:00 p.m.: The premiere of season 8 of MythBusters on The Discovery Channel! Woohoo! The previews look great.
10:00 p.m.: Hmmm, I know there's something going on at this time… oh, right. The premiere of Episode 2 of Bad Universe, "Alien Attack!" also on Discovery Channel! I showed a teaser yesterday, and here's another one. In this, I went spelunking in an underground cave in New Mexico to look for extremophiles:
Did you catch the "O Brother Where Art Thou" reference? I have lots of stories about that cave, which I'll be live-tweeting tonight during the premier!
So tune in and watch as I try to figure out if I, for one, am in imminent danger of having to welcome our new insect overlords. And don't forget: there's still a little bit of time left (if it's before noon Mountain time, that is) to win free swag from this episode!
---