So a couple of weekends ago I was in San Francisco at the behest of my friends Paul & Storm, Adam Savage™, and Wil Wheaton, so that I could once again partake of the brainy insanity that is w00tstock, specifically w00tstock 2.5.1.
When geeks die, they don't go to heaven, they go to an eternal w00tstock. W00tstock ∞.0, you could call it.
It's really way too much fun. I was on stage at w00tstock at Comic Con earlier in the year, my first, and I was torn between watching the nerdery on stage versus hanging out backstage with such illustrious folks as Veronica Belmont, Marian Call, Chris Hardwick, and Aaron Douglas.
This time was easier, though, since we all hung out next to the stage and basically enjoyed the whole schmear of events.
That included Grant Imahara as Beerbot (see above pic)! Paul & Storm asked Grant to build them a robot that could serve beer, but Grant didn't have enough time (mostly due to MythBusters being up for an Emmy), so he made a costume and walked on stage with beer. When they pulled the robot head off, revealing Grant's lovely flesh-and-blood head beneath, the crowd roared… just as they did when Adam said he had his own Beerbot, the ByronBeerBot, shown here.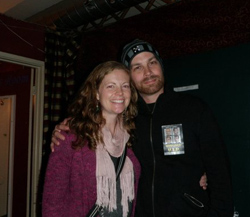 There was music, comedy, silliness, and sometimes all three simultaneously. Mike Phirman was amazing, as was Molly Lewis, and really everyone else. It was also very cool to see my old friends Scott Sigler and Dr. Kiki there, and my new friend Sara Kessell, who can do some sort of run in 12 parsecs.
I gave my dirty astronomy talk again, and the crowd apparently enjoyed themselves. I won't embed the video here, as it contains some, ah, off-color jokes, but here's a link to a video that has most of the talk in it.
When astronomers do comedy, they don't go blue. They go ultraviolet.
I also have a few pictures from backstage on Flickr, and a search there will yield lots more. Lots of videos on YouTube, too.
If you ever get a chance to go to w00tstock, take it. And remember, there's a kinda sorta w00tstock coming to Boulder October 23, too. I'll be there with Paul & Storm and Adam Savage™ as well. It'll be fun, and if you come I'll give you a puppy*.
---
* No I won't.
---