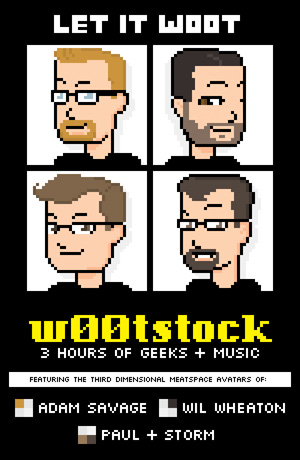 The good news: I'll be performing onstage at two w00tstock events: this Friday, September 17 at San Francisco's Great American Music Hall and again in my hometown of Boulder on Saturday, October 23rd at the Boulder Theater!
Yay! I'm really excited about this!*
IMPORTANT! There are specific things to keep in mind for these two events, which follow:
San Francisco
The bad news: tickets are sold out for the September 17th San Francisco performance.
The medium news: there may be tickets available at the door, but you'll have to go there that night to find out.
The other other good news: there will also be a performance in SF the night before, on Thursday September 16, and there are still tickets. However, I won't be there (I don't know if that's medium news or bad news, so I'll leave it as is. It's just news).
As usual, Wil Wheaton, Adam Savage, and Paul & Storm will be there, as will singer Molly Lewis and magician Jamy Ian Swiss. There may be more special guests too! Boulder
Due to a scheduling conflict, Wil Wheaton won't be at the Boulder show. This makes me sad, as I was planning on pitting him head-to-head against The Little Astronomer in Rock Band at my house. I think he suspected this, and that's why he scheduled some sort of emergency acting excuse to get out of it. You can't trust that guy. Have you seen his beard? Evil.
Because of this it's not really an official w00tstock show, so they're calling it "w00tstock Presents". But you still get Paul & Storm and My Close Personal Friend Adam Savage™, so it'll be a great show.
About w00tstock
w00tstock, for those of you who are not hopelessly uncool, is a sort of nerdvana of music and geekery. They helpfully have a primer online. Basically, if you like my blog you'll love w00tstock. I was thrilled to be a part of w00tstock at Comic Con in July, and wrote up my squeeing about that in an earlier post.
The gang also announced several more venues in October, including LA, NYC, Boston, Austin, and Dallas.
I won't be at those, but in SF and Boulder I'll be talking about astronomy. You should know that it'll have a decidedly, um, adult theme to it. Well, maybe late-teenager theme, given the level of jokes I'll be making and the pictures I'm showing. Video of my last Comic Con w00tstock talk is online, but I'll be making somewhat different jokes this time… including what may or may not be a picture of me being or not being in a state of undress.
Maybe.
[Please, if you know what I'm talking about, NO SPOILERS IN THE COMMENTS!]
As Paul from Paul&Storm warmly emailed me to say, "Although admission is open to all ages, some content may not be appropriate for younger children". In other words, naughtiness and maybe swearing may ensue. I'd wager hijinks and shenanigans, too.
Want more? You can check out my Flickr stream for some pix I took backstage at Comic Con's w00tstock, or check out everyone else's pix.
I can't wait! Hope to see some BABloggees there!
---
* You can tell by the number of sentences in this post ending with exclamation points!
---