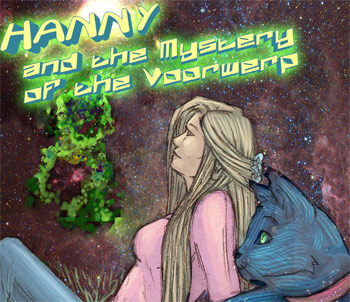 In 2007, a young woman with no prior experience in astronomy made a discovery that led to dozens of astronomers using billions of dollars of equipment to figure out the solution to the mystery. The young woman, named Hanny, and the object – whimsically named the Voorwerp – wound up becoming a fantastic demonstration of how citizen science works, and how it can lead to a greater understanding of the Universe.
My friend Pamela Gay, an astronomer and educator, spearheaded an effort to get this story out to the folks who need it most: kids! She and her team created a comic book based on Hanny's story, called "Hanny and the Mystery of the Voorwerp" - you can learn more about it at that link. The comic book (a panel is shown above) will be premiered at Dragon*Con this weekend, but you can pre-order a copy for $5. If you're an educator, or are looking to get your kids interested in science, you should check it out.
It's a cute story, but also an important one. You don't need a big fancy degree or even years of experience to make a big discovery. Sometimes what you need is a bright, curious mind, and the desire to explore.
---