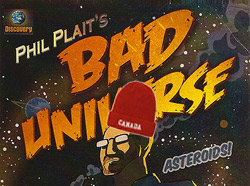 I know, I make fun of our friends to the North, but it's out of love, and also knowing they're all too nice to say anything about it.
But the good news is, Discovery Canada has officially announced (via Twitter, thus showing the end of the world really is nigh) that they will be airing the first episode of "Bad Universe" on October 3 at 9:00 p.m. Eastern time!
I know what you're thinking. "Take Off! No way!"* But it's true. I'm really glad to hear that; I get several tweets a day from forlorn Canadians asking when it will air. So now you know.
I also know that Discovery Asia will air the first episode on November 17. But that's all the info I have; I don't know when it'll air in any other countries, nor do I know when the second and third episodes will officially air in the US either. But I promise, as soon as I find out I'll let everyone know.
Until then, read about those two tiny rocks that zipped past us yesterday. What timing!
---
* If that's not what you're thinking, it's because your brain didn't learn all about Canada in the 1980s from Bob and Doug MacKenzie like mine did. Kooooo loo koo koo koo koo KOO KOO!
---