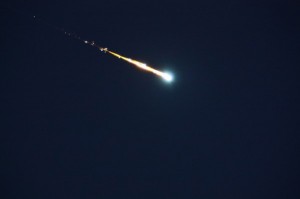 The next couple of nights bring us one of the best meteor showers of the year: the Perseids. It peaks around mid-August – this year the peak is tonight, Thursday August 12 – when the Earth plows through the debris from the comet Swift-Tuttle. This year should be pretty good, as the Moon sets early, and won't interfere with seeing fainter meteors.
If you don't think the Perseids will be cool, then watch this:
Love it! Want more info?
Back in 2007 I wrote up a brief guide on how to observe the Perseids, and it's still pretty much apropos of the shower this year (just replace "Sunday" with whatever day you're observing). The most important things: the later you go out, the better since the shower really peaks after midnight; you need a clear view of as much of the sky as possible; and you don't need any equipment, but I recommend a lounge chair to lie back on.
Other sites are covering this as well, of course:
- Wanna chat about the meteors? NASA is hosting a live chat Thursday night/Friday morning (Aug 12/13)!
- Universe Today
- Tom's Astronomy Blog
- Astropixie
So get out there and enjoy the shower!
---