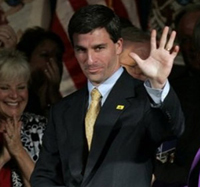 Some good news today: The Daily Progress is reporting that the University of Virginia will fight the state attorney general's attacks on academic freedom.
A few weeks ago, Virginia Attorney General Ken Cuccinelli started investigating noted climate scientist Michael Mann. While at UVa, Mann was researching climate change. Cuccinelli has submitted a subpoena to get documents about Mann's research, to see if he was abusing public funds. Cuccinelli's motivations for doing this are suspect to say the least: Mann has already been cleared of any research wrongdoing. If Cuccinelli is trying to ride the "climategate" propaganda, he's a day late and a docket short; that whole thing has already died with a fizzle. But the attacks continue, so the administration at UVa has filed a petition with a judge to set aside Cuccinelli's subpoena, saying:
"Academic freedom is essential to the mission of our Nation's institutions of higher learning and a core First Amendment concern," UVa's petition says. "As Thomas Jefferson intended, the University of Virginia has a long and proud tradition of embracing the 'illimitable freedom of the human mind' by fully endorsing and supporting faculty research and scholarly pursuits. Our Nation also has a long and proud tradition of limited government framed by enumerated powers which Jefferson ardently believed was necessary for a civil society to endure."
The Jefferson quote is particularly apt; Jefferson founded the University of Virginia, and even designed much of its architecture. A lot of the principles established by him are still apparent at UVa today. I attended the University for six years to get my doctorate, and so I know first-hand that the climate there is steeped in Jeffersonia, and his love of personal and academic freedoms.
Cuccinelli's investigation appears to me to be an attempt to slow or smear research on climate change; an attack on the freedom of academic and scientific research, and cannot stand. I'm very glad to see UVa fighting back, and I hope this case becomes a national symbol of the recent attempts to silence science.
Tip o' the thermometer to my fellow Wahoo Noisy Astronomer, aka Nicole Gooventargenyehelfen.
Related posts:
Deniers abuse power to attack climate scientists
Climate change followup
Climate scientists cleared of malpractice by panel