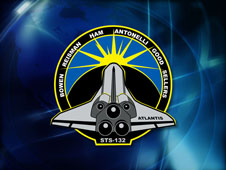 The last scheduled flight of the Space Shuttle Atlantis, STS-132, is scheduled for May 14 at 14:20 EDT (18:20 UT). It will, as usual, bring supplies and spare parts to the space station, as well as Rassvet, a Russian Mini Research Module and docking component.
You can always get more info on the Shuttles at the NASA Shuttle Mission Pages.
I'll note in passing that the mission commander for this flight is named Ken Ham. Happily, he's no relation.
---