I am a big fan of The Late Late Show with Craig Ferguson, and I'm also a fan, bordering on a man crush, of the Mythbusters (Kari Byron, of course, is not a man, so my crush on her is purely – OK, mostly – platonic). Adam, of course, has been relegated to My Close Personal Friend™ status, but still.
As it happens, Craig is a big Mythbusters fan as well. When he came up with the idea of having a robot skeleton sidekick, he turned to the one man who could realize his dream: Miles Dyson. I mean, Mythbuster Grant Imahara.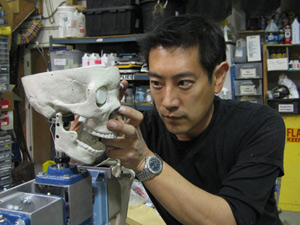 Grant has been working feverishly on the auto-sidekick for weeks, and tonight it will be unveiled on the show! I'm really squeeing over this, and can't wait to see it.
I love The Late Late Show for many reasons, but the biggest is Craig himself: he's very funny, and extremely smart. He's self-taught in many ways, and has had a rough life – he'll be the first to say it was self-inflicted, but the bottom line is he's pulled himself out of the muck and turned it all around. His humor is whip-crack fast, and he's clearly a big fan of science, so of course I am powerless not to like him. Did you see his 5 minute rant about Copernicus (starting around the four minute mark)? I mean, seriously, Copernicus? Craig, I less-than-three you.
And as part of his Robot Skeleton Army – as he calls his Twitter followers – I am very pleased that he's using this occasion to raise money for Lollipop Theater, a way to get movies and TV shows to sick kids. If you see the hashtag #lollipoptheater in my own tweets today, that's why.
You can read more about Craig and Grant's excellent adventure on NPR's Monkey See blog (where I got the picture of Grant above) and in a great post by my friend Erin McCarthy at the Popular Mechanics site.
And check your local listings for Craig's show tonight. It's on CBS, and is usually at 12:35 a.m. (11:35 p.m. central) though it may be delayed by basketball. And remember: it's a great day for America everybody.
Image credit: Grant Imahara.
---