[Update: The Shuttle landing was waved off today due to low cloud coverage. The first landing attempt opportunity will be Tuesday at 07:34 EDT.]
The Space Shuttle Discovery is scheduled to land at Florida's Kennedy Space Center Monday morning at 08:48 EDT (12:48 GMT).
ISS astronaut Soichi Noguchi took this picture of Discovery over the Caribbean as she undocked from the station and prepped for landing. After she lands, there will be one more flight for the Orbiter, scheduled for September. In fact, each of the Orbiters – Discovery, Endeavour, and Atlantis – each have one flight left before they are retired. Assuming their lives aren't extended, but that's still in the scuttlebutt (shuttlebutt?) stage.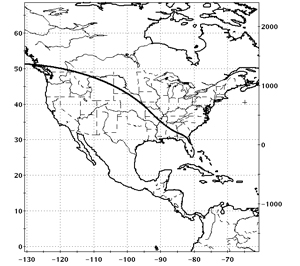 If you want to watch this landing yourself, the de-orbit burn will be at 07:43, so stay tuned to NASA TV around then to find out if weather will permit it to touch down. The ground track is unusual this time, taking the Orbiter over most of the country. It's a bit too far north to get a good view from Boulder, and it's also a bit early for me… but I might try for it anyway. It's not like there are many more chances to see it.
[Update: I just noticed that if the landing is delayed one orbit – about 90 minutes – then Discovery will pass almost overhead at my location (and it'll be at a more decent hour of the morning, too). Keep your eyes and ears open for news of when it lands, and check those ground tracks.]
---