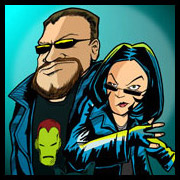 Swoopy from Skepticality interviewed me about NASA, and the whole shebang is now live (you can also just grab the MP3).
I talked about Obama's plan for NASA, the JREF, Pluto, Mars, my tattoo (sorry, folks, no news there), and doted on Swoopy maybe just a little because she is made of awesome and win and unicorns. She and co-host Derek run the Skeptic and Podcasting tracks at Dragon*Con, because that's just how cool they are.
Skepticality is the original skeptical podcast, and still one of the best. You really should subscribe to it if you don't already. And if you do, you are already smart and good-looking and likely to be President one day.
---